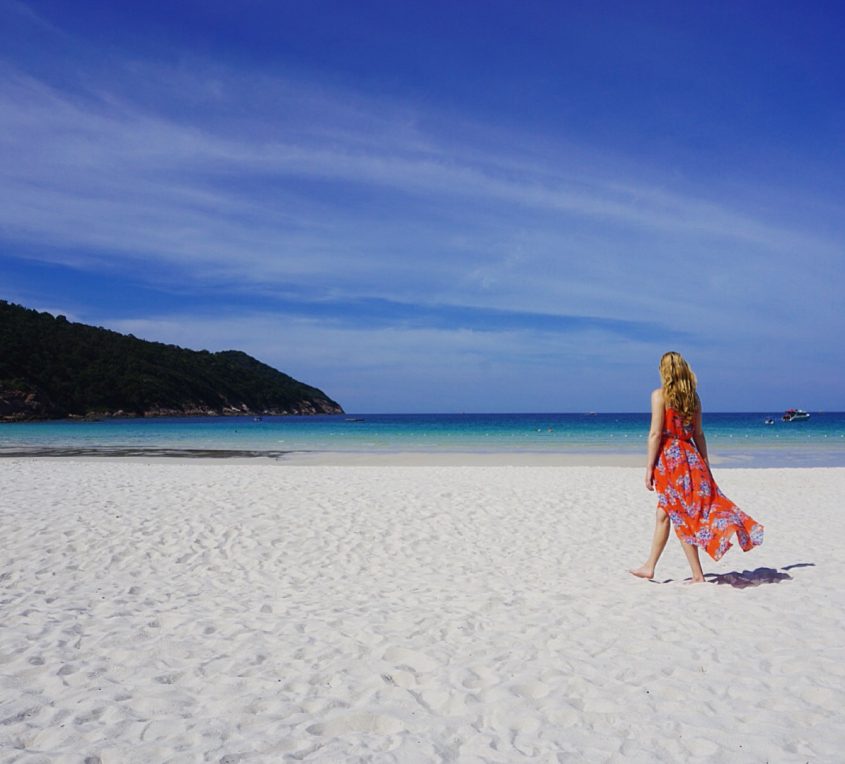 Om Redang
Redang Island är 6×7 km stor och ligger på Malaysias östkust. Den är ett äkta paradis med sina svajande palmträd, turkosklara vatten och kritvita sandstränder. Hit kommer folk för att koppla av och njuta av sol, bad och diverse vattenaktiviteter.
Ta sig till Redang Island:
Från Malaysias huvudstad Kuala Lumpur kan man ta sig med buss (lång resa) eller flyg (1 timme) till Kuala Terengganu. Därifrån går det båtar till Redang Island ifrån hamnen Shabandar Jetty (eller Merang med speedbåt). Vi tog den lokala färjan från Shabandar som gick kl 15 och som tog 90 minuter och det kostade 55 ringgit per person plus marinparksavgift på 5 ringgit. Taxin kostade 30 ringgit till hamnen ifrån flygplatsen. Hotellen kan ordna transfer till ön men färjan är troligtvis det billigaste alternativet (men även det mest långsamma.)
Boende på Redang Island:
Det är bra att ha bokat hotell innan så att man vet vart man ska hoppa av färjan och får bra pris (priserna på Agoda var billigare än hotellets egna) samt att man verkligen får det hotell som man vill ha. Vi valde The Taaras med egen strand som hade bra recensioner på nätet. I november stänger dock hotellen när monsunperioden börjar. De öppnar igen till våren i mars. Man kan även bo på hotellen på The long beach om man vill ha mer liv och se mer folk. Coral Redang och Laguna Redang har bra betyg. Om man vill ta sig mellan stränderna kan man åka båt. Det kostar ca. 150 ringgit för 2 personer. Vi gick igenom djungeln. Det tog lite tid att hitta stigen men sen när vi väl var på rätt väg så var det lätt och för oss tog det 1,5 h. (Det kan ta 45 min om man är lite snabbare.)
Här på Taaras resort finns det olika typer av rum, vi hade tur och fick en fantastiskt fint inredd och bekväm Garden Suite på 70 kvm med badkar, regndusch och många andra bekvämligheter.
Att göra på Redang Island:
På Redang kan man snorkla, dyka, åka på båtutflykter eller bara ta det lugnt och blicka ut över havet. Här på Taaras finns bland annat ett fint SPA med behandlingar som gör att man verkligen kan koppla av och komma ner i varv. Det finns även ett gym, vattensportsaktiviteter som SUP (stand up paddle), bananbåt, kajak, trampbåt m.m. Vill man äta äkta Malaysisk mat kan jag rekommendera den lokala restaurangen Aima som ligger precis utanför Taaras portar. De har fantastiskt god nyfångad fisk, räkor och nudlar m.m.
//About Redang
Redang Island is 6×7 km big and is located on Malaysia's east coast. It is a true paradise with its swaying palm trees, turquoise clear waters and powdery white sand beaches. People come here to relax and enjoy the sun and sea and for trying out various water activities.
Getting to Redang Island:
From Malaysia's capital Kuala Lumpur you can either go by bus (takes maybe 7 hours) or by flight (55 min) to Kuala Terengganu. From there the boats to Redang Island from the harbor Shabandar Jetty goes twice a day or you can go via Merang by speedboat to Redang. We took the local ferry from Shabandar who went at 15 and that took 90 minutes. It cost 55 Ringgit per person plus marine park fee of five ringgit. The taxi cost 30 ringgit to the jetty from the airport in Kuala Terengganu. The hotels can arrange transfers to the island but the ferry is probably the cheapest option (but also the slowest.) There are no boats operating during the monsoon
Accommodation in Redang Island:
It is a good idea to have booked hotel in advance so you know where to jump off the ferry and get a good price (prices on Agoda was cheaper than the hotel's own) and that you really get the hotel that you want. We chose The Taaras with its own beach that had good reviews online. In November, however, they close the hotels when the monsoon season begins. They open again in the spring in February/March. You can also stay at the hotels on The Long Beach if you want more action and to see more people. Coral Redang Laguna Redang and have good grades. If you want to go between the beaches you can go by boat. It costs about 150 Ringgit for 2 people. We went through the jungle by ourselves. It took some time to find the path but then once we were on the right track it was easy for us and it took 1.5 hours. (It may take 45 minutes if you are a bit faster.)
Here at Taaras resort there are different types of rooms, we were lucky and got an amazing finely decorated and comfortable Garden Suite of 70 sqm with bath, rain shower and many other amenities.
To do on Redang Island:
In Redang you can snorkel, dive, go on boat trips or just relax and look out over the sea. Here at Taaras they have a fine SPA with treatments that make you really relaxed and wind down. There is also a gym, water sports activities such as SUP (Stand Up Paddle), banana boat, kayak, pedal boat, etc. If you want to eat authentic Malaysian food, I can recommend the local restaurant Aima located just outside Taaras ports. They have amazing good fresh fish, prawns and noodles etc.