Trekking i södra Patagonien /Trekking in south Patagonia
Utanför vårt fönster hörs ljudet av argentinsk sång medan vi vilar oss efter vår 4,5 timmars vandring. Glaciär Martial bjöd på spektakulär utsikt över hela Ushuaia. Då och då belönade vi oss med lokalproducerad choklad ifrån Laguna negra i stan. (Bäst var blåbär och calafatebärsfyllningen). Vi har även testat den lokala specialiteten kungskrabba med parmesan. Supergott! Det finns massvis att göra här i området och det är svårt att välja utflykt, men jag hoppas få se pingviner och bävrar snart. 🙂
//Outside our window we hear the sound of argentinian song while we rest after 4,5 hours trekking. The glaciar Martial offered spectacular views over the whole town of Ushuaia. Once in a while we treated ourselves with local chocolate from Laguna negra in town. (Best was blueberry and calafateberry chocolate). We have also tried local speciality king crab with parmesan. Delicious! There are a lot of things to do here and it is hard to choose but hopefully we will see penguins and beavers soon. 🙂

---
Med utsikt över Ushuaia /View of Ushuaia
Idag sken solen denna februaridag och det var över 20 grader. Vi satte oss i gräset och hade en mysig picnic medan vi njöt av utsikten. Vanligtvis är det 10 grader på den argentinska sommaren. Solnedgången ikväll var magisk.
//Today the sun was up all day and it was over 20 degrees. We sat in the grass and enjoyed the view with a nice picnic. Usually it is 10 degrees summer time here. The sunset tonight was magical.
 
---
Nationalparken Tierra del fuegos magi /The magical national park Tierra del fuego
I eftermiddags har vi vandrat i Tierra del fuegos nationalpark (lätt att ta sig hit med minibuss ifrån Ushuaias center dec-mars) längs Zaratiegui bay och Lapataia bay på Costera trail där Yamanafolket en gång levde. Det är magiskt vackert! Vi fick se svanar med svarta halsar och röda näbbar, möss, fåglar och hästar m.m.
/
/This afternoon we have been hiking in Tierra del fuegos national park (easy to go there with mini bus from the centre of Ushuaia dec-march) along Zaratiegui bay and Lapataia bay on Costera trail where the Yamana people once lived. It was magical! We got to see black swans with red beaks, mice, birds and horses etc.

---
På span efter bäver /Looking for beaver
Vi återvände dagen efter till Tierra del fuegos nationalpark igen för att leta efter bäver och räv.  Det var dock inte helt lätt men vi fick iaf se bävrarnas dammar. Vi gick säkert 2 mil i medelsvår terräng och fick se ännu mer av nationalparkens skönhet. Nu blir det dock bussresa som gäller i 16 timmar till El calafate. Så benen lär hinna vila upp sig. 🙂
//We returned the day after to Tierra del fuegos national park to look for beaver and fox. It was not so easy but we got to see some beaver dams. We walked approximately 20 km in medium difficult terrain and got to see even more of the beautiful national park. Now it will be bus for 16 hours to El Calafate. So the legs can rest for a bit. 🙂
Vi lämnar Ushuaia med minnen från fantastiskt god mat på restauarang Maria lola där vi åt lokala delikatesser såsom kungskrabba, musslor, bläckfisk, pilgrimsmusslor, pasta, lamm och öring.
//We leave Ushuaia with memories of fantastic food in the restaurant Maria lola where we ate local delicious meals as king crab, clams, squid, scallops, pasta, lamb and trout.

---
I pingvinernas land /In the land of the penguins
Vi hann med en dagsutflykt till Harberton Island där massvis med små och fina pingviner bodde. Det var en fantastisk upplevelse att kliva iland och få se pingviner så långt ögat kunde nå. Vi hade tur och fick även se 4 kungspingviner förutom åsnepingviner, magellanpingviner. En pingvin bet en norrman i byxbenet.
//We went on a day trip to Harberton island where tons of small and cute penguins lived. It was a fantastic experience to walk and see penguins as far as you could look. We were lucky and saw also 4 king penguins except from gento and magellanic penguins. One penguin came very close to a norwegian man.
---
Inför resa till Argentina /Before going to Argentina
Några råd innan du reser till Argentina:
*Cash is king här. Ibland är kontanterna slut i bankomaterna. Ta helst med dollar och olika betalkort.

*Undvik odlad lax. (Inte bra för miljön)

*Avstånden är långa.

*Boka boende/transport i förväg i högsäsong.

*Allt är dyrare än vad det står i guideböckerna.

*Vädret kan variera enormt från kallt till varmt men försök ta med lätt packning.

*Ha med hög solfaktor och solglasögon.

* Läs på innan du åker.

* Lär dig grunderna i spanska. Hur säger man då hej på spanska? Hola! (uttalas åhlla!)
//Here are some tips if you go to Argentina. *Cash is king. Sometimes the ATMs run out of money. Bring dollars and different kind of payment cards. *Avoid farmed salmon. *Here are som great distances. Bus is a beautiful way of seeing the country but very time consuming. *Book well ahead in high season. *Everything is much more expensive than it says in the latest guide books. *The weather changes rapidly from cold to warm. *Bring sun screen with high sun factor and sun glasses. *Read alot before you go. *Learn some basic spanish. How to say hello in spanish? = Hola!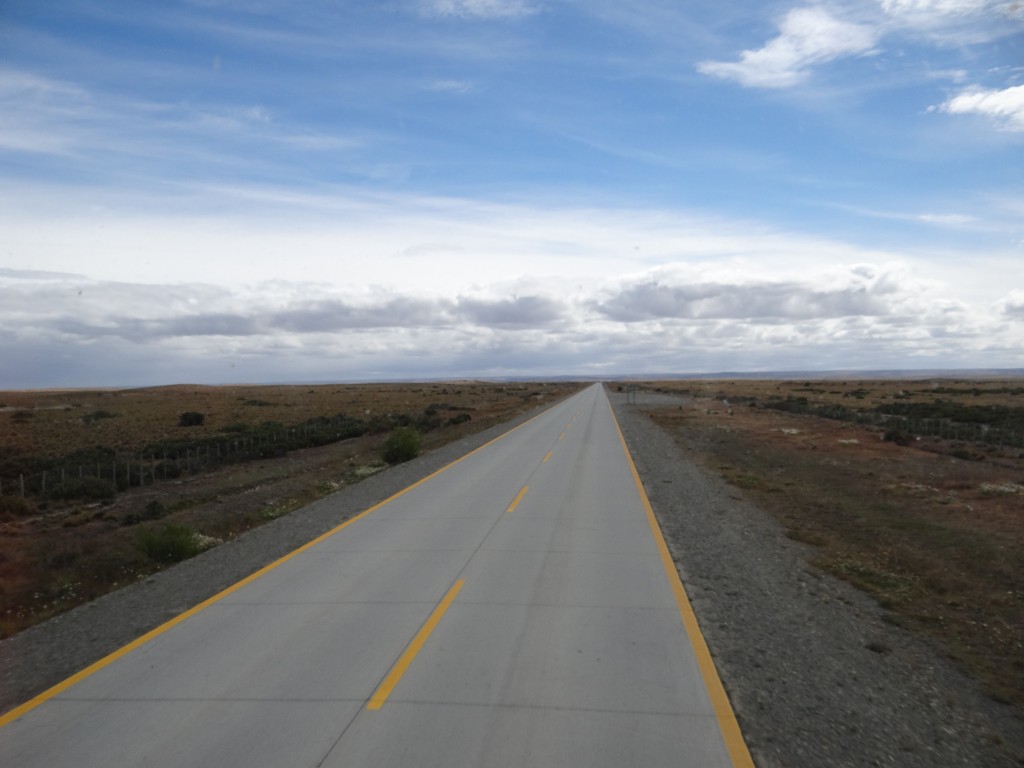 ---
Glaciären Perito moreno /The glaciar Perito Moreno
Det var spektakulärt att se glaciären Perito Moreno. 3 gånger under 4 timmar så föll gigantiska isblock ner med höga åskliknande ljud. Naturen är så mäktig!
//It was spectacular to see the glaciar Perito Moreno. 3 times during 4 hours we saw gigantic ice blocks falling down with a big thunder.
---
Hästridning i El Calafate, Patagonien /Horse riding in El Calafate, Patagonia
Idag var vi ute och red med utsikt över El Calafate med Cabalgata en Patagonia vilket var otroligt trevligt. Efteråt fick vi mate-te med bröd på farmen. Det kändes bra att få uppleva och gynna en äkta argentinsk farm.
//Today we were out riding with views over El Calafate with Cabalgata en Patagonia which was very nice. Afterwards we got mate tee and bread on the farm.
Trekkingmeckat i El Chaltén /Trekking capital El Chaltén
Liksom Torres del Paine är också Los glaciares nationalpark i byn El Chalten ett UNESCO:arv.
// Just like Torres del Paine is also Los glaciares nationl park in the village El Chaltén a part of UNESCOs world heritage list.
Vi var lyckosamma som fick fint väder när vi vandrade i nationalparken så att man tydligt kunde se bergen Fitz Roy och Cerro Torre m.fl. Första dagen besökte alla parkkontoret där man fick gå igenom alla regler som gällde för att få vandra. Parkvakten sa bl.a. att man kunde bli stoppad i parken för att deklarera sitt skräp; hade man inget fick man böter. De var även rädda för skogsbränder så det var nolltolerans mot eld då en turist en gång bränt upp en stor del av nationalparken Torres del Paine.
// We were lucky that we got good weather when we were walking in the national park so we clearly could see the top of Fitz Roy and Cerro Torre among other mountains. The first day we visited the park office where they went through all rules that had to be followed to be able to hike. The park officer said that there was a fine if you did not carry any trash. They were afraid of wild fire so it was not allowed to make up a fire in the forest because of the risk of burning it down (like a tourist did in Torres del Paine once.)
Vi gick därefter upp på Mirador de los condores och Mirador las aguilas med fina vyer. Dagen efter hyrde vi campingutrustning, köpte empanadas på lokala bagerierna, samt inhandlade choklad på La chocolateria. Det var en vacker solig och lång heldagspromenad med varierande svårighetsgrad. (Man är ju lite mindre smidig med 8 respektive 12 kg på ryggen i uppförsbackar.) Sedan slog vi upp vårt tält på Poincelot för att sedan vandra uppåt till den magiskt vackra lagunen de los tres. Det var såå jobbig trekking på en stenig stig (nu utan väska) men väl framme välkomnades vi av en vacker rovfågel som glatt poserade framför min kamera. I byn njöt vi sedan de sista dagarna av fantastiskt gott lamm på Estepa, lokal öl, argentinskt vin, hemgjord glass på Domo blanco och ett välbehövligt spabesök på Spa yalten. Naturen här var spektakulär med fina vyer och glaciärvattnet var friskt och välsmakande. Wifi här i El Chalten var en annan historia…
// We went up to Mirador de los condoers and Mirador las aguilas with beautiful views. The day after we rented camping equipment, bought empanadas on the local bakeries and shopped chocolate on La chocolateria. It was a beautiful sunny and long whole day walk with different type of difficulties from easy to streneous trekking. (It was a bit heavy upwards with our backpacks that weighed 8 kg and 12 kg.) Then we made a camp at Poincelot were we later continued walking up to the beautiful lagoon de los tres. It was soo hard trekking on small stones even though we did not have backpacks but when we finally was there we were welcomed by a beautiful big bird that happily posed in front of my camera. In the village we later enjoyed the last days of fantasticly tasty lamb on Estepa, local home brewed beer, argentinian wine, home made ice cream on Domo blanco and a necessary visit to the Spa Yalten. The nature here is spectacular with nice views and the glaciar water is fresh and tasty. Wifi here in El Chaltén is another story…
---
Bariloche -vid foten av Anderna /Bariloche – at the foot of the Andes
Vi har åkt buss längs den kända sträckan Ruta 40 i 22 timmar och har nu anlänt till San Carlos de Bariloche i the Lake District. Här finns massor av sjöar, chokladbutiker, Schweiz-inspirerade hus och trevliga restauranger (missa inte Alto el fuego & Kandahar). Igår gick vi i nationalparken Nahuel Huapi där vi fick se enormt gamla och skyhöga träd, bambu, fåglar, möss och blommor. Det häftigaste var de vilda gröna papegojorna som inte verkade speciellt skygga för oss samt en häpnadsväckande utsikt på toppen av Cerro Llao llao.
//We have been travelling with bus along the famous route 40 in 22 hours and finally arrived to San Carlos de Bariloche in the Lake District. Here are plenty of lakes, chocolate shops, Schweiz inspired houses and and nice restaurants (don´t miss Alto el fuego & Kandahar). Yesterday we walked in the national park Nahuel Huapi where we saw enormously old and high trees, bamboo, birds, mice and flowers. The coolest thing were the wild green parrots  that seemed tame and also the astounding views from the top of Cerro Llao llao.
Nationalparken Nahuel Huapis höjder /National park Nahuel Huapi
Nationalparken i Bariloche bjöd på vackra utsikter även om naturen och djurlivet inte var lika imponerande som det vi tidigare har sett i övriga Patagonien. Det hade säkert varit annorlunda om man gått ifrån turiststigarna. Vi gick till Playa Bonita samt uppför Cerro Campanario och Mirador Lago Gutierrez. Sedan åt vi supergod glass på Jauja. Citron och vit choklad med hallon var bäst.
//The national park in Bariloche offered us beautiful views although the nature and the animals were not as impressive as what we had seen before in the rest of Patagonia. Maybe it would have been different if we had avoided the tourist paths. We travelled to Playa Bonita and also climbed up to Cerro Campanario and Mirador Lago Gutierrez. Then we ate so good ice cream at Jauja. Lemon and white chocolate with raspberries were the best flavours.
---
Världens ände – Ushuaia /The end of the world
Vi är nu i Ushuaia, allra längst ner i Argentina. Där möttes vi av strålande sol, värme och mäktig natur. Tyvärr hade vi en enorm sömnbrist och var tvungna att sova ut i 16 h. Idag är det kallt, blåsigt och lite regn men omgivningen är vacker med snöklädda bergstoppar och man får känslan av att vara i Schweiz eller Norge. Vi hoppas kunna göra en trevlig båtutflykt snart eller hiking. Man får ha solcreme här för ozonlagret är tunt. Det känns som en säker stad och spanskan är relativt lätt att förstå.
//We are now in Ushuaia, in the south of Argentina. Here we were met by sunshine and amazing nature. Unfortunately we were so sleepy after 2 days travelling so we had to sleep 16 hours. Today it is cold, windy and a bit rainy but the environment is beautiful with snowcovered mountains and you get the feeling of being in Schweiz or Norway. We hope that we can make a nice excursion soon with boat or go hiking. It is important to use sun screen here because of the thin ozone layer. It feels like a safe town and the spanish is quite easy to understand.

Långfärdstripp till Argentina /A long trip to Argentina
Vi köpte en biljett på Tickets hemsida från Brasilien till Argentina och har nu anlänt till Buenos aires. Nu är vi på väg till Ushuaia i södra Patagonien. Hela Buenos Aires har vi inte hunnit se så mycket av men det verkar som en trevlig stad med mycket grönområden. Tyvärr är havet alldeles brunt. Jag har aldrig sett ett sådant hav förut. Det ska bli skönt att komma fram snart efter 2, 1/2 dygns resande utan sömn.
//We bought a ticket on Tickets homepage from Brazil to Argentina and now we have arrived to Buenos Aires. Now we will go to Ushuaia in south of Patagonia. We haven´t seen so much of Buenos Aires but it seems like a nice city with lots of parks. Unfortunately the ocean is brown. I have never seen a ocean like that before. It will be so nice to come to our destination soon after 60 hours of travelling with no sleep.