On January 20, 2015 by
sofiesvarld
With
0
Comments -
Brazil
I João pessoa så träffade vi otroligt trevliga människor. En stor brasiliansk familj bjöd in oss att bo med dem i hela 5 dagar. Vi blev såå bortskämda och fick testa äkta brasilianska specialiteer. Vi hade jätteroligt. Minnen för livet!
Tilsammans så byggde vi ett eget sällskapsspel med papper och pennor som vi spelade varje kväll (settlers). Det blev även besök på diverse ställen såsom fiskebyn Penha, historiska centrumet med gamla hus, acai-ställen, chokladbutiker, biobesök, churrascarian Sal e brasa, lokala fiskrestauranger och kanotpaddling i havet. En dag fick vi lära oss hur man lagar tapioca och de visade hur man dansar den lokala dansen Forro. Vi fick även möjlighet att handla en massa vinterkläder inför Argentina-vistelsen. Jag fick ett brasilianskt mynt som var från 1901! En av tjejerna köpte t.o.m. Joao pessoa-tshirts till oss på marknaden. När vi var på Vetenskapsmuseumet så kom en familj fram och ville ta foto med oss – de 2 exotiska svenskarna.
//In Joao pessoa we met so friendly people. A big brazilian family invited us to live with them in 5 days. We were soo spoiled and got to try real brazilian delicious meals and had a lot of fun. Memories for life! Together we built a game with paper and pencils that we played every night (settlers). We also visited places like the fishing village Penga, the historical center with old houses, acai-places (ice cream), chocolate shops, cinemas, churrascarian Sal e brasa (meat), local fish restaurants and canoe rides in the ocean. One day we got to learn how to make tapioca and they showed us how to dance the local dance Forro. We also got the opportunity to shop a lot of winter clothes before our visit to Argentina. I got a brazilian coin that was from 1901! One of the girls even bought us Joao pessoa tshirts to us on the market. When we were on the Science center there was a family who wanted to take a picture of us – the 2 exotic swedes.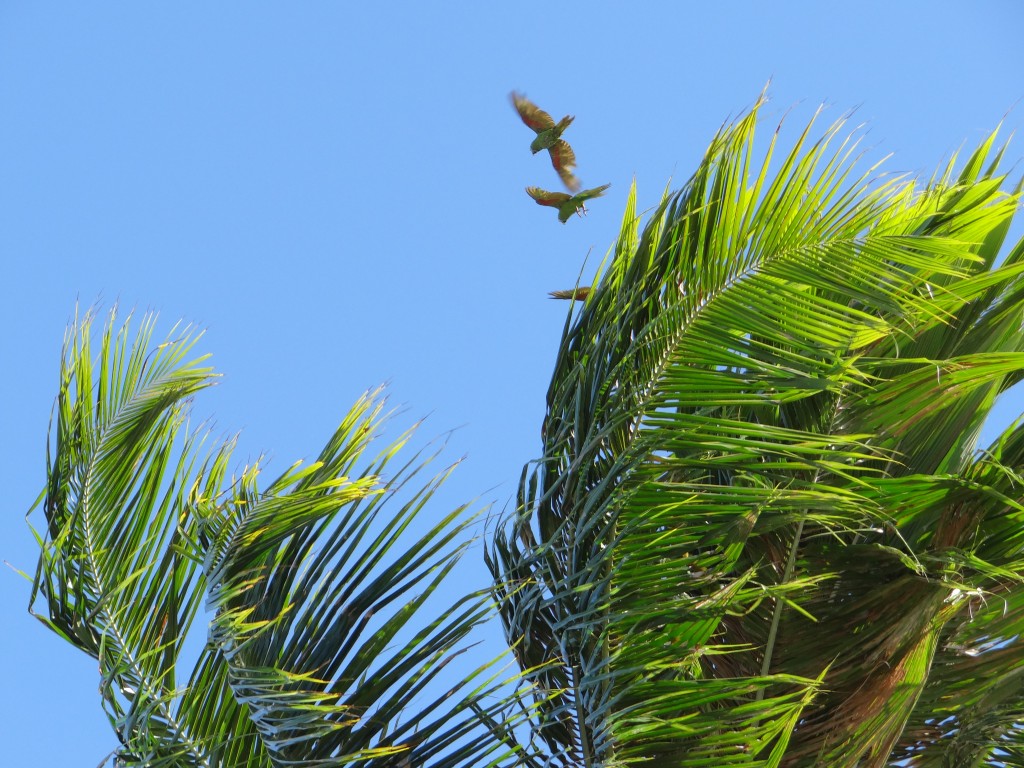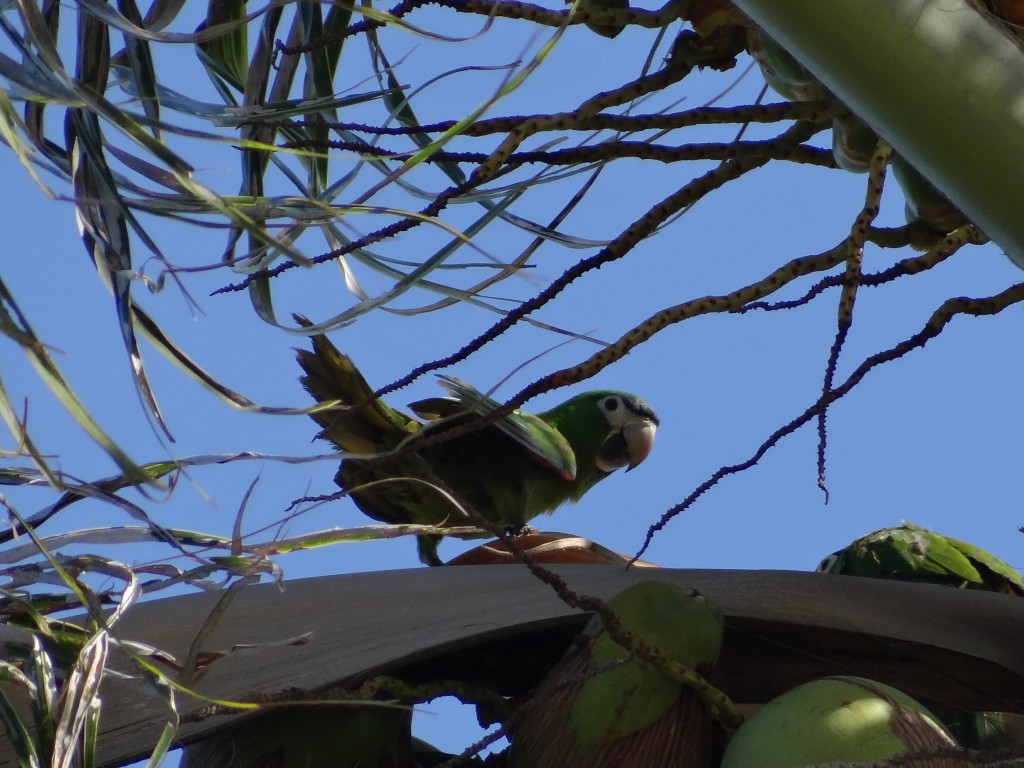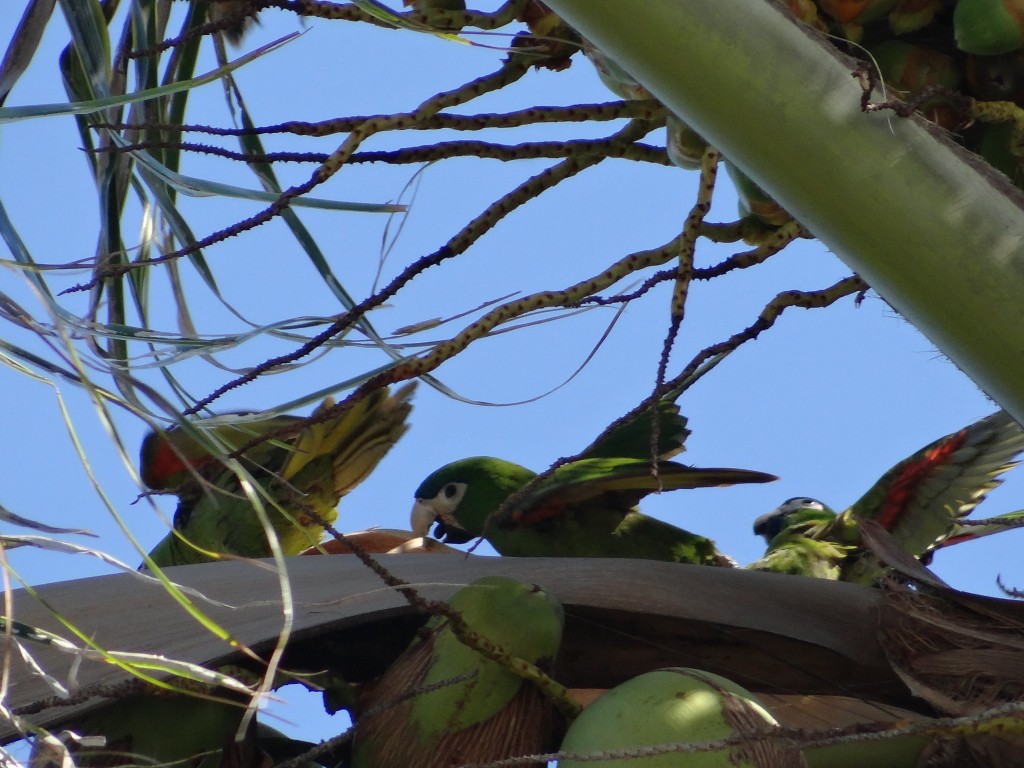 On January 15, 2015 by
sofiesvarld
With
0
Comments -
Brazil
Idag har Johan och jag åkt till Sancho beach och snorklat. Jag såg bl.a. 3 sköldpaddor, några rockor och en barracuda. Men det är rätt stora vågor så man får vara försiktig. (Tappade snorkeln 2 gånger.) För att gå ner till stranden måste man klättra längs med 2 branta stegar mellan klippväggarna. Sedan gick vi till Golfinhos bay där vi såg solen gå ner. På vägen dit såg vi den häftigaste ödlan som jag någonsin har sett. Svart och vit. Det fanns även söta gnagare och massvis med fåglar. Varje dag här har vi njutit av tapioca och acai.
Näst sista dagen:
Imorse snorklade vi på Atalaia i dess naturliga pool som bildas vid lågvatten. Det var väldigt grunt och därför rätt svårt att undvika korallerna som man ej får röra men det hjälpte med den obligatoriska flytvästen. Vi såg bläckfisk, muräna och färgglada små fiskar. Man fick inte ha solcreme förrän efteråt för att skydda området. Det var så varmt idag så man kunde inte tänka klart förrän efter kl 15. Vi snorklade då på Sancho och njöt där resten av dagen. Jag kommer att sakna Fernando de Noronha!
//Today me and Johan have been visiting Sancho beach and done some snorkelling. I saw 3 turtles, some rays and 1 barracuda. But there were quite big waves so we had to be careful. (Lost my snorkel equipment 2 times.) To be able to go down to the beach you have to climb down 2 steep ladders between the cliff walls. Then we went to Golfhinos bay where we watched the sunset. On the way there we saw the coolest lizzard ever. Black and white. There were also some cute rodents and lots of birds. Every day here we have been enjoying tapioca and acai.
2 days before we left the island: This morning we were snorkelling on Atalaia in the natural pool that is created when the tide is low. It was very low water and therefore quite hard to avoid the corals that we could not touch but it helped with the obligatory life vest. We saw squid, moreen and some colorful small fish. We were not aloud to use sun screen until after because the reef needed to be protected. It was so hot today so we could not think clear until 15.00. We then went snorkelling on Sancho and enjoyed the beach there the rest of the day. I will mis Fernando de noronha!
On January 14, 2015 by
sofiesvarld
With
0
Comments -
Brazil
Vi har haft turen att träffa ett jättetrevligt par på Porcos bay (en svenska och en brasiliansk) som vi nu har hängt med i några dagar. Efter att Johan och jag undersökt stränderna på norra sidan (Cacimba do padre, Bode beach, Americano beach, Boldro beach, Conceicao beach) av ön så såg vi solnedgången vid ett fort (Boldro fort) tillsammans.
//We have been lucky and met a really nice couple when we visited Porcos bay (a swedish girl and a brazilian guy) and we have been hanging out the last couple of days. After me and Johan have been visiting the beaches on the north side (Cacimba do padre, Bode beach, Americano beach, Boldro beach, Conceicao beach) of the island we then saw the sunset at a fort (Fort Boldro) together.
Nästa dag åkte vi runt hela ön och såg fler stränder och en kyrka. På ett ställe vid Sueste bay snorklade vi och såg en sköldpadda, koraller och fina färgglada fiskar. När vi kom upp på stranden såg vi 4 hajar som strök fram längs vattenbrynet. Lite senare tog en guide upp en sköldpadda, mätte den och berättade om Tamars sköldpaddsprojekt.
//The next day we drove along the whole island and saw more beaches and a church. In one place at Sueste bay we snorkelled and saw a turtle, corals and nice colorful fish. When we came up on the beach we saw 4 sharks swimming along the coast. A bit later a guide took up a turtle, measured it and talked about Tamars turtle project.
Vi åkte även till Sancho och snorklade med enorma stim av sardiner och större fiskar. Underbart! Hela deras uppfart är gjord av återvunnen plast.
//We also went to Sancho and snorkelled with huge amounts of sardines and bigger fish. Wonderful! The whole parking lot are made of recycled plastic material.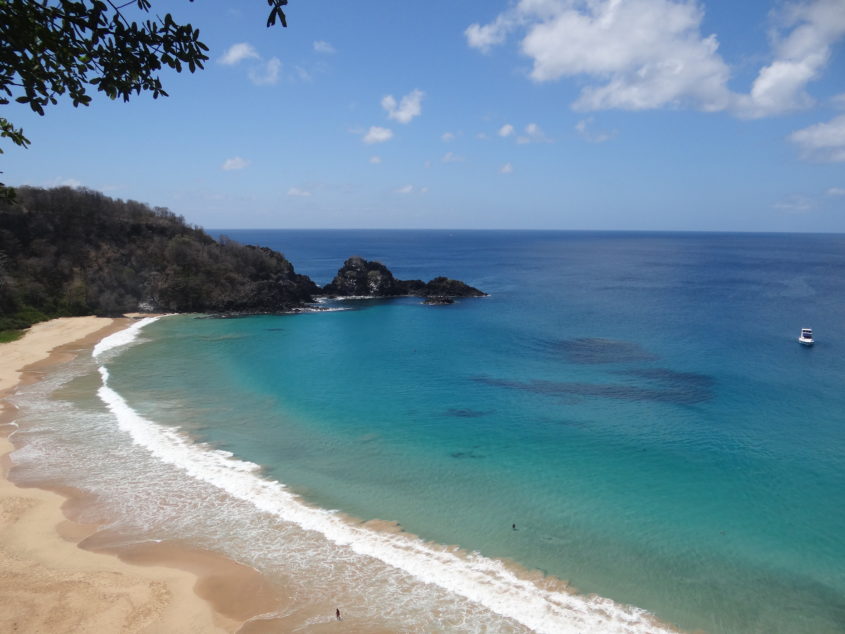 Sedan blev det solnedgång vid hamnen på Mergulao. På kvällen sen åt vi en god moqueca i en pumpa på restaurang Xica Silva.
//Then it was a sunset down the harbour on Mergulao. On the night later we ate a good moqueca in a pumpkin in restaurant Xica Silva.
Dagen därpå åkte vi ut med båt vid St. Antonio beach och åkte efter båten med snorklar och glasbrädor. Då såg vi en sköldpadda som simmade nära ett vrak (Greeks shipwreck). Sedan fiskade vi och fick upp 6 st firrar som sedan grillades i solnedgången. Det var en fantastisk utflykt!
//The day after we went out with boat at St. Antonio beach and went after the boat with snorkel equipments and glass boards. Then we saw a turtle that swam close to a shipwreck (Greeks shipwreck). Then we did some fishing and got 6 fish that we later barbecued in the sunset. It was an amazing excursion!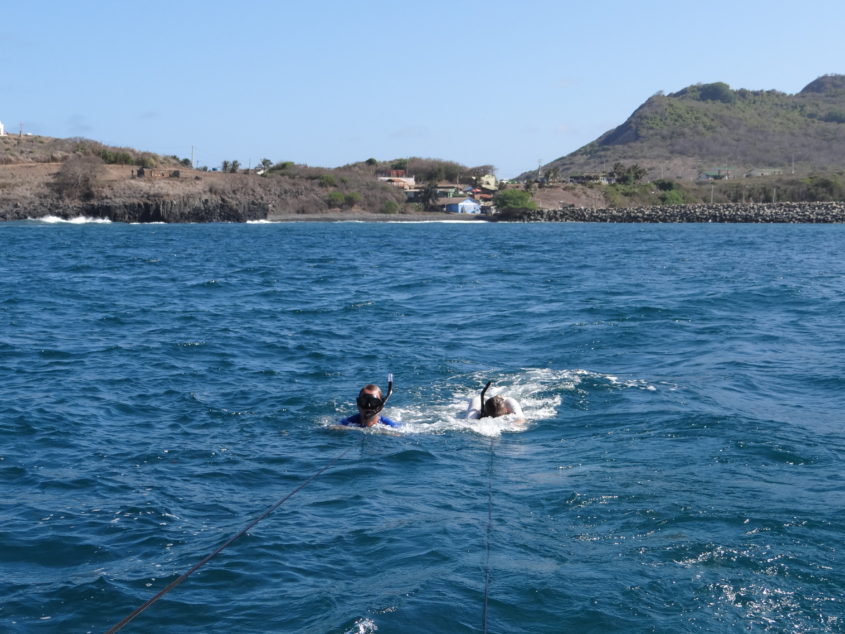 On January 13, 2015 by
sofiesvarld
With
0
Comments -
Brazil
Nu är vi på ögruppen Fernando de Noronha där vi ska vara i en vecka. Det tog lite mer än 2 h ifrån Recife med flyg och när vi höll på att landa såg vi en regnbåge. 🙂 Det ska vara väldigt tryggt och lugnt här med hållbarhet i åtanke. När vi anlände fick vi betala en miljöskatt (kallas TPA) på ca. 2000 kr. Sedan kostade det ytterligare ca. 1000 kr om man vill ha tillträde till den skyddade marina nationalparken Parnamar (Fernando de Noronha marine national park som ligger utanför bebyggelsen i APA Fernando de Noronha environmental protection area) där vissa stränder finns. Stränderna här har röstats fram som de bästa i världen enligt Tripadvisor (bl.a. Sancho beach). För att få tillträde till en specifik strand och snorkla i 30 min. (Atalaia beach) måste man ställa upp sig på en bokningslista hos ICMbio vilket kan ta upp till 10 dagar (troligtvis 5). Till vissa stigarna måste man även hyra en guide då det är svårt att gå själv. Sen måste man även hyra en dräkt så att man flyter bättre ovanför korallerna på vissa stränder. Allt här är mycket dyrare än på fastlandet då det måste transporteras hit men det är bra att de bara tillåter ett visst antal turister, begränsar bebyggelse samt att man kan sopsortera på många ställen.
//Now we are in the island Fernando de noronha where we are staying for 1 week. It took 2 hours from Recife with flight and when we were landning we saw a rainbow. 🙂 It is supposed to be very safe and calm here with sustainability in mind. When we arrived we had to pay an environment tax called TPA about 2000kr. Then it was also 1000 kr if we wanted to go to the protected marine national park Parnamar (Fernando de Noronha marine national park that lies outside the houses in APA Fernando de Noronha environmental protection area) where some of the beaches are. The beaches have been voted to be the best in the world according to Tripadvisor (among others Sanco beach). To access a specific beach and go snorkelling for 30 minutes (Atalaia beach) we had to sign up on a waiting list at ICMbio which could take up to 10 days (5 is normal). To walk in some of the trails we have to book a guide because it is hard to walk yourself. Then we have to rent a life jacket so we fleet above the corals in some of the beaches. Everything here is much more expensive that in the main land because it has to be transported here but it is good that they only allow a certain amount of tourists at a time, limit the buildings and also recycle in a lot of places.
Vi bor mycket enkelt i ett rum i en privatbostad. Värden överraskade oss med att hämta oss på flygplatsen där han hade väntat i en evighet. Sen fick vi varsin kokosnöt ifrån trädgården. Vi har även upptäckt att det finns en groda i badrummet samt besök av diverse myror/ödlor. Vi ska bo på ett annat ställe sen i 4 dagar hemma hos en tjej som hyr ut ett rum. På ön finns det ett pousada som är certifierat med eko-certifikatet Selo verde (green seal). Det innebär bl.a. att: Maten på restaurangen ska vara organisk & duschvattnet värms upp med solenergi.
//We live very simple in a room in a family´s house. The host surprised us by picking us up at the airport where he had been waiting for hours. Then we got a coconut each from their garden. We have also noticed that there is a frog in the bath room and also some visits by ants and lizzards. We will live in another place later in 4 days home at a girl that rents out a room. In the island there are also supposed to be a pousada that is eco certified by Selo verde (green seal). That means among other things that the food is organic and the water in the shower is heated by solar energy.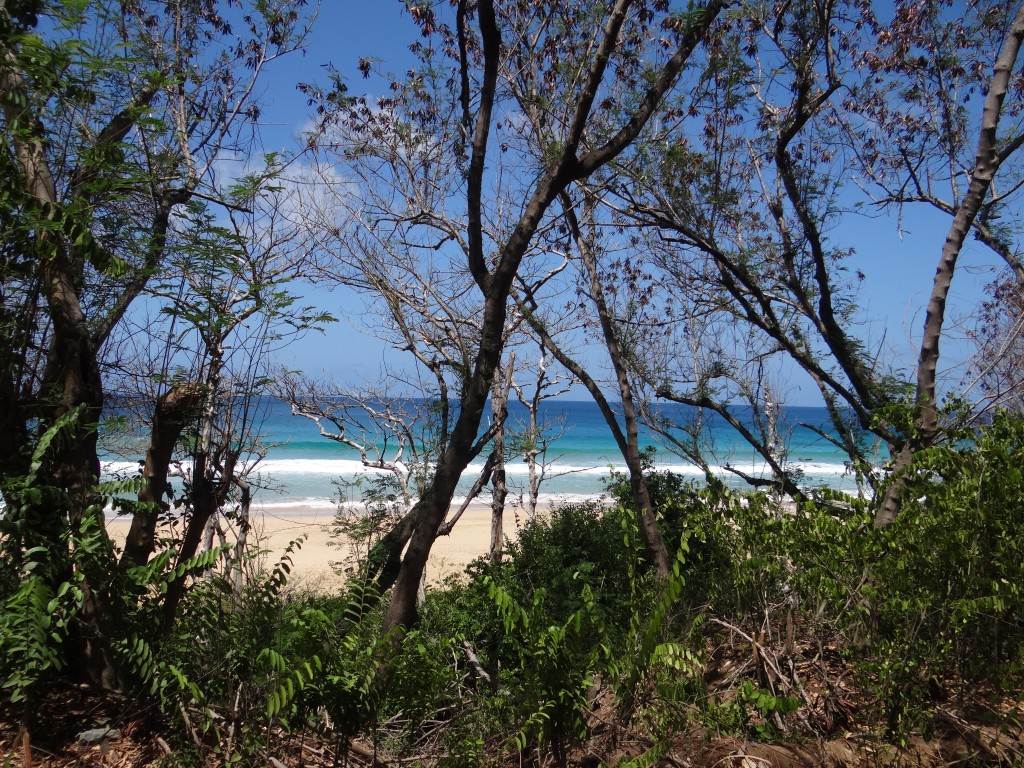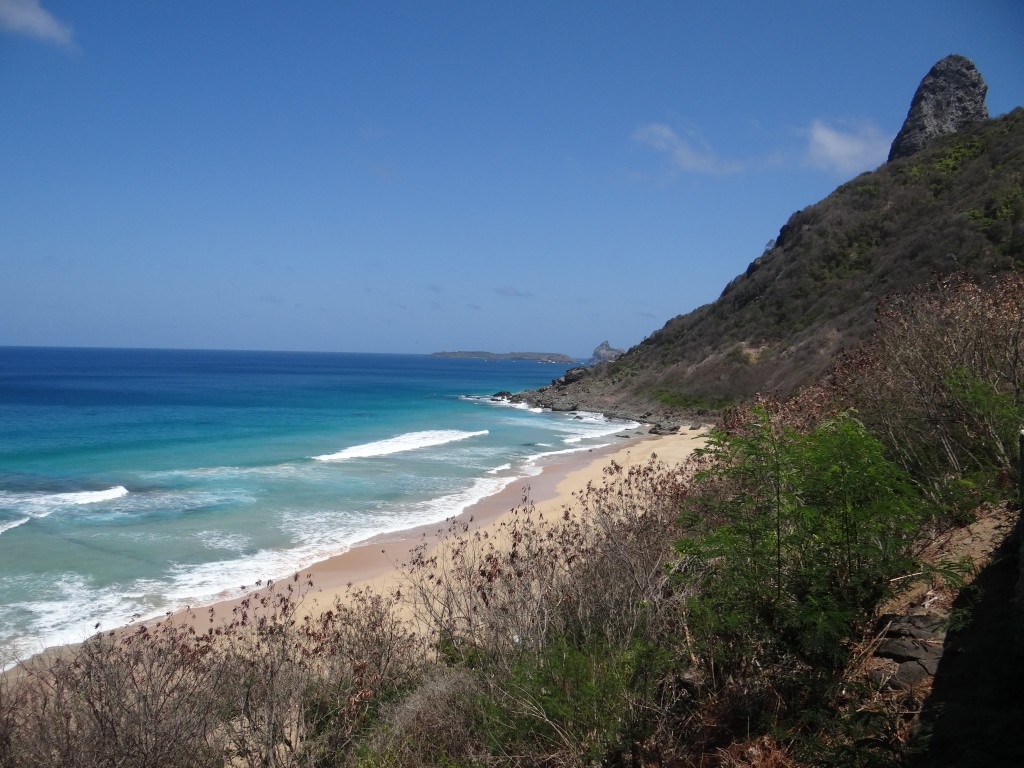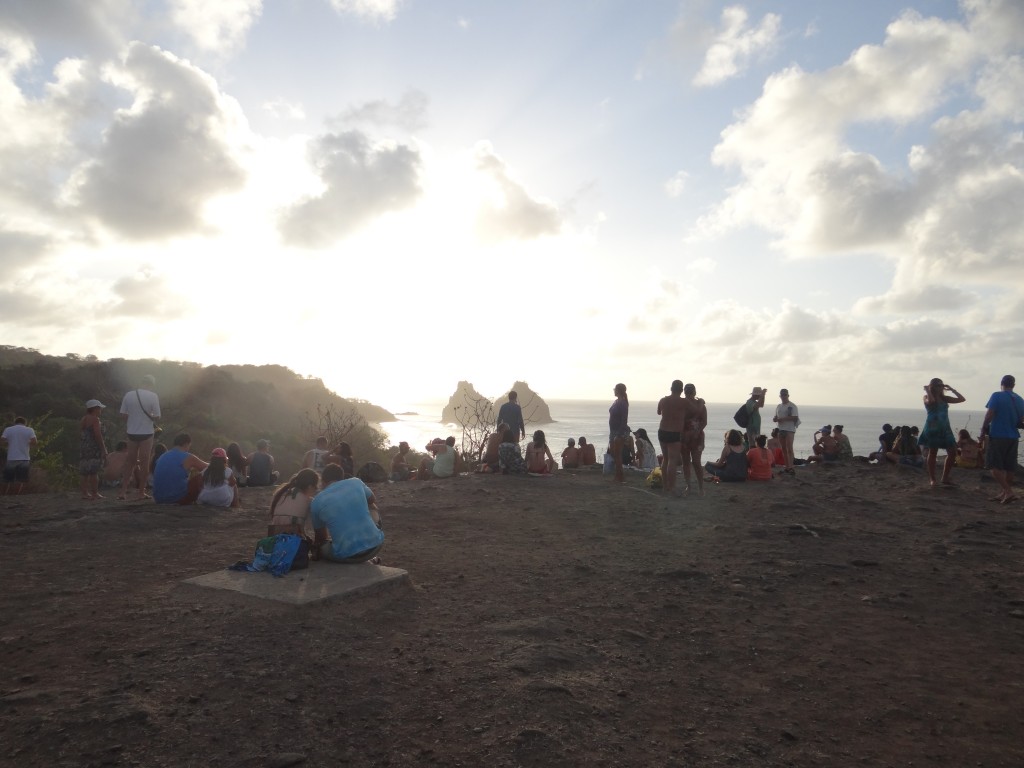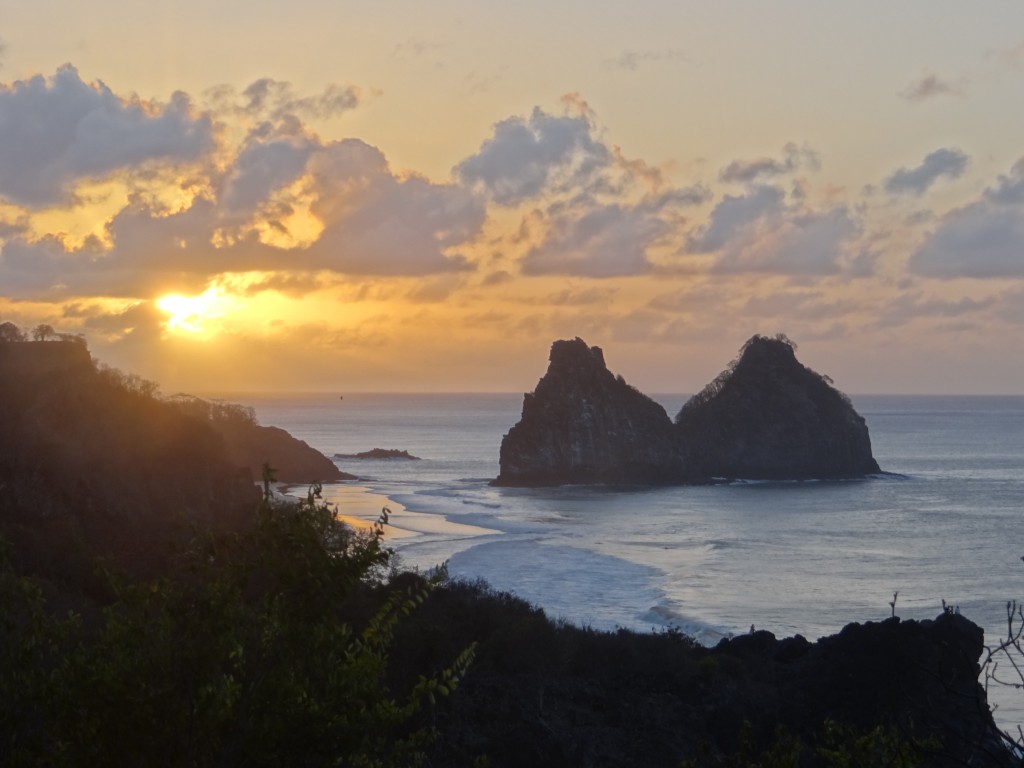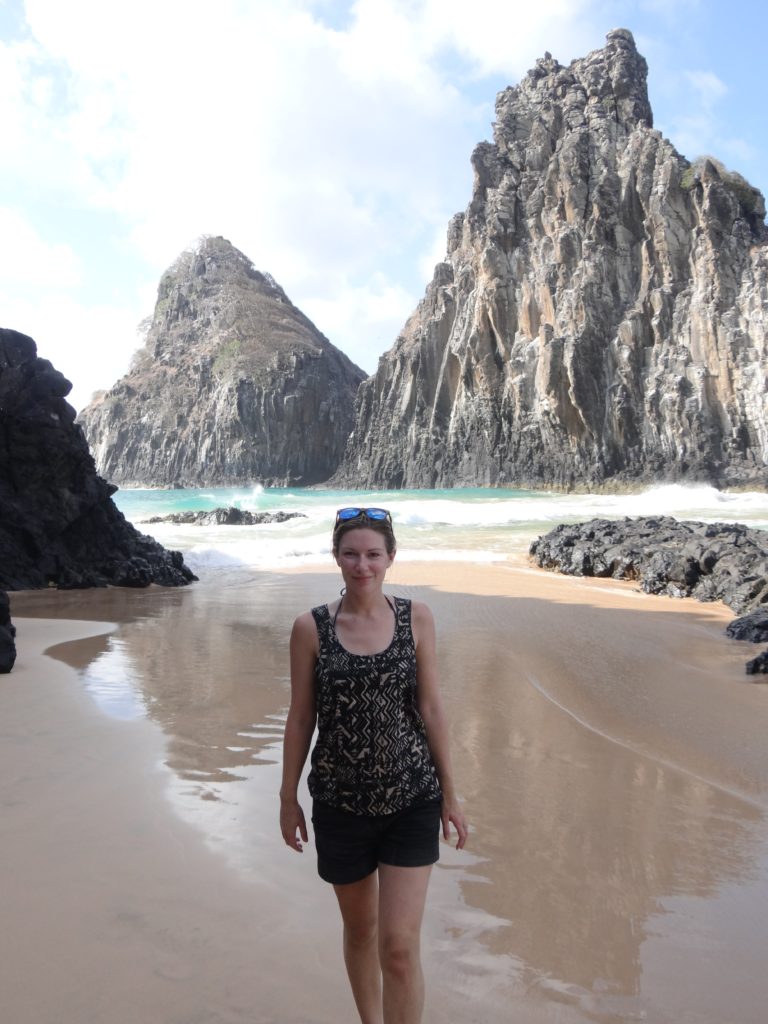 On January 10, 2015 by
sofiesvarld
With
0
Comments -
Brazil
I Porto de galinhas var det överfullt med turister. Alla badade på samma plats med massor av båtar som tar ut folk 100 m till ett rev. Det var skönt att gå en bit bort längs med stranden där det var mer folktomt som när på några surfare. (Det var dock finare i Tamandare.) Stränderna var rena pga att de samlade ihop allt skräp på kvällarna och vårt hotell skilde på organiskt och vanligt skräp vilket är ovanligt. Vi åt även jättegoda gratänger på Gratin
https://www.facebook.com/gratinportodegalinhas/
och god glass på Degusta
http://www.tripadvisor.se/Restaurant_Review-g303461-d7271500-Reviews-Degusta_Paleteria_Mexicana-Porto_de_Galinhas_Ipojuca_State_of_Pernambuco.html
Nu är vi på väg till Fernando de Noronha.
In Porto de Galinhas there were alot of tourists. Everybody was swimming at the same place with a lot of boats that took people out 100 meter to a reef. It was nice to walk a bit away along the beach where there were less of a crowd except from some surfers. (Although I liked Tamandare more.) The beaches were clean because they collected the trash every night and our hotel recycled and separated organic trash and normal trash which is not so common. We ate delicious gratins every night at the restaurant Gratin
https://www.facebook.com/gratinportodegalinhas/
There were also excellent ice cream at Mexican ice cream store Degusta
http://www.tripadvisor.se/Restaurant_Review-g303461-d7271500-Reviews-Degusta_Paleteria_Mexicana-Porto_de_Galinhas_Ipojuca_State_of_Pernambuco.html
Now we are on our way to Fernando de Noronha
On January 9, 2015 by
sofiesvarld
With
0
Comments -
Brazil
Tamandare bjöd på ännu mer skönhet och gästfrihet. (Folk kör en fram till dörren & busshållplatser.) Jag fick t.o.m. ett par örhängen och en fläta i håret av en tjej. Vi blev även visade runt i byn och fick se ett gammalt fort.
//Tamandare offered us even more beauty and hospitality. (People drive you to your door and bus stops.) I even got a pair of ear rings and a braiding in my hair of a girl. We also were shown around in the village and saw a fort.
Idag gick vi 8 km längs stranden till Carneiros beach som var superfin. Stranden där och sträckan ifrån Tamandare var bred när det var lågvatten så det var lätt att gå på den hårda plana sandytan. På ditvägen fanns ett litet skjul där en familj sålde grillade nyfångade hummrar. 75 kr per person kostade det. 🙂
//Today we walked 8 km along the beach to Carneiros beach which was super nice. The beach there and the path from
Tamandare was wide when it was low tide so it was easier to walk on the hard flat sand. On the way there there was a place where a family sold grilled freshly catched lobsters. 75 kr per person! 🙂
I havet finns det tropiska rev som sträcker sig mellan Alagoas och Pernambuco så därför är det turkosfärgade vattnet alldeles varmt och stilla.
//In the ocean there are tropical reefs that goes along Alagoas and Penambuco so that is why the turquiose colored water is so warm and still.
Imorse var det nära att vi fick en kokosnöt i huvudet men vi hade tur. Sen trampade jag iof på en sjöborre men det gick rätt så bra.
//This morning I was close to get a coconut in my head but I was lucky. Then I stepped on a sea urchin but it went relatively fine.
Jag har testat tapioca här. Det är en liten "pannkaka" gjord på mjölk, kokos och maniokrot. (Våra brasilianska vänner får köpa ut mat och saker åt oss så vi inte får betala turistpris.)
//I have tried tapioca here. It is a small "pancake" made of milk, coco and cassava. (Our brazilian friends help us buy food so we don´t get to pay tourist prices.)
Det är härligt att bada i Tamandare, t.o.m. på natten i månens sken. (Men i vissa andra städer i Brasilien ska man inte bada på natten då det finns hajar.)
//It is lovely to swim in Tamandare, even in the night in the light of the moon. (But in some other cities in Brazil it is not wise to swim in the night because of sharks.)
Överallt hörs musik, (om inte annat så sjunger folk ) men det som är synd är att det ligger skräp slängt överallt i hela byn.
//Everywhere in town you hear music (people also sing) but it is sad that there are a lot of trash trown everywhere.
On January 7, 2015 by
sofiesvarld
With
0
Comments -
Brazil
Vi åkte båt ut till Gales marinreservat för att bada i fint klart vatten och snorkla. Vackert! Jag såg några fiskar men det är inte som att snorkla i Filippinerna. Liksom i övriga Brasilien finns här också utegym längs strandkanten. Stranden här var fin (bara pyttelite skräp) men det är dyrare pga mycket turism. Man blir väckt av en tupp som gal eller högljudda stereos & människor. Vi åker vidare idag till Tamandare, men eftersom det är högsäsong nu i januari så lär där också vara mycket folk.
//We went out with boat to Gales marine park to swim in nice clear water and snorkel. Beautiful! I saw some fish but it is not the same as the snorkelling in the Phillippines. As in the rest of Brazil here are also gyms outside along the beaches. The beach here was nice (only a little bit of trash) but it is more expensive because of tourism. Everyday we got woken up by a rooster or loud stereos and people. Today we will move on to Tamandare, but because it is high season now in january I guess there will also be a lot of people.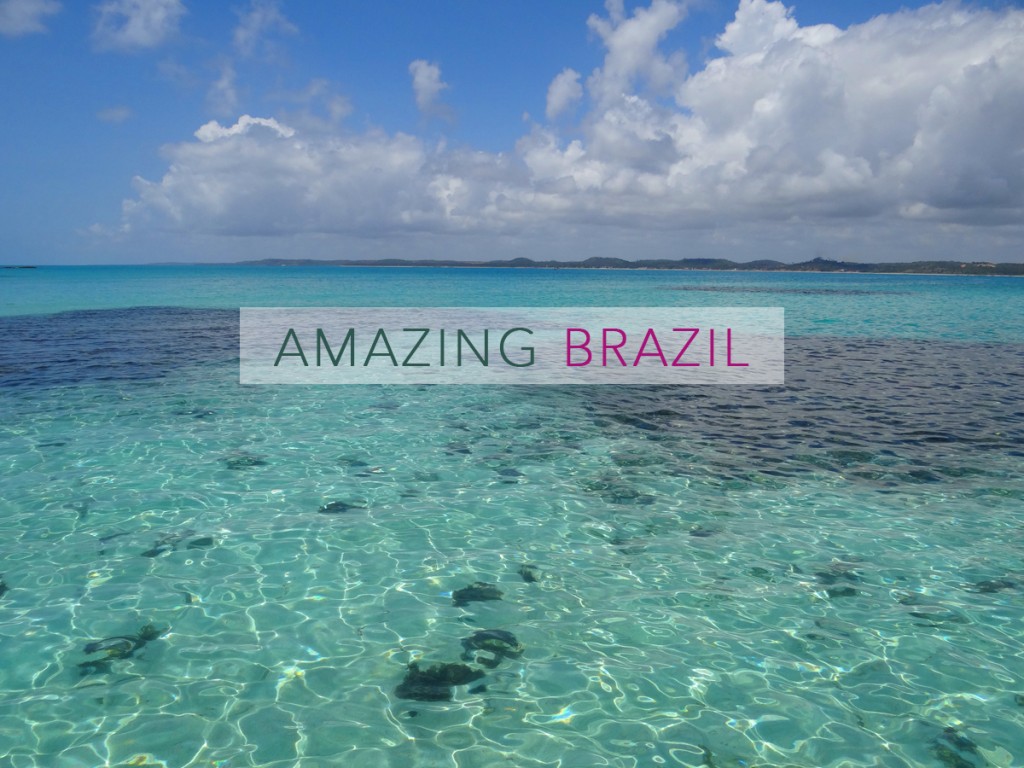 On January 3, 2015 by
sofiesvarld
With
0
Comments -
Brazil
Vi anlände till Praia do Frances dagen efter nyårsafton. Stranden var full med skräp vilket var en besvikelse samt att där var mycket folk. Jag kan dock rekommendera Restaurant dona madalena som hade god hummer till bra pris. Dagen efter det så åkte vi till Praia do gunga som var finare med klart vatten men också mycket turister på. Tyvärr tillåts det köra sandbuggys och motorcyklar på stranden vilket stör lugnet. Men sikten ifrån utsiktstornet där var fantastisk.
Jag fick träffa en söt kattunge som hotellpersonalen hade hittat övergiven och nu tog hand om.
//We arrived to Praia do Frances the day after new years eve. The beach was full of trash which was dissapointing, there were also a lot of people. I can recommend Restaurant dona madalena though where they had tasty lobster to a good price. The day after that we went to Praia do gunga which was nice with clear water (but also a lot of tourists). Unfortunately it is allowed to drive sandbuggies and motorbikes on the beach which disturb the calmness. But the view from the mirador/look out point was amazing.
I got to meet a cute kitten that the hotel staff had found abandoned and now took care of.
På eftermiddagen fick vi även besök på terassen av en hel familj med apor. Den minsta la sig i hängmattan!
//In the afternoon we also got visitors on the terrace from a whole family of monkeys. The smallest one was hanging out in the hammock!
Även här i Alagoa-regionen har vi mött många trevliga människor. Det är inte helt lätt att hitta busshållplatser men alla är hjälpsamma. 3 gånger denna veckan har jag fått frågan om jag är från Brasilien vilket känns bra då jag isf nu smälter in mer. 🙂
//Here in Alagoa region we have also met a lot of friendly people. It is not so easy to find bus stops but people are very helpful. 3 times this week people asked me if I am from Brazil which feels good because I then blend in more. 🙂
Längs med vägarna kan man se bränder och ibland hus gjorda av lera. Då och då kör man förbi folk som åker häst och vagn.
//Along the road one can see fire and sometimes houses made of clay. Now and then we pass people who ride on horses with wagons.
Idag kom vi fram till Japaratinga (också här var det skräp längs stranden men det var härligt att bada i lågvattnet samt i solnedgången). När jag sedan duschade på hotellet så kom det in en 5 cm stor groda genom fönstret. 🙂
//Today we reached Japaratinga (here was also trash along the beach but it was nice to swim in the shallow water in the sunset). When I took a shower in the hotel there came in a 5 cm big frog from the window. =)
Havet här är jättevarmt och imorgon i Maragogi hoppas vi få se naturliga pooler som bildas vid lågvatten. //The ocean here is really hot and tomorrow in Maragogi we hope to see natural pools that appears when there is low tide.
Vi gick uppför en brant backe här och fick se hela palmodlingen samt det turkosfärgade havet. Det växer mango och jambo i trädgården (fick med oss 3 kg som de skänkte till oss) och hotellet vi bor på källsorterar och hade en plantodling. //We walked up a hill here and got to see the whole palm tree farm with the turqoise ocean. There grows mangos and jambo in the garden (got 3 kg that they gave to us) and the hotel that we live at recycles and had a plant farm.
On January 1, 2015 by
sofiesvarld
With
0
Comments -
Brazil
I Aracaju finns en jättefin strand som heter Atalaia. Den är så pass bred så när vågorna slår in så bildas det en spegelbild av himlen. På nyårsafton hade folk kastat vita blommor i havet för att hedra havsdrottningen. De flesta restaurangerna vid havet öppnade vid 22.00 och det kostade 600 kr för ett bord. Vi firade på hotellet istället. 3 minuter i 12 var det alldeles lugnt och vi trodde att de inte hade så mycket fyrverkerier här, men sen satte hela stan igång raketerna på en och samma gång vilket var häftigt. Nu är vi på väg till Praia do Frances söder om Maceio. På vägen såg jag några "hus" som byggts med grenar och plastpåsar.
//In Aracaju there are a nice beach that is called Atalaia. It is so wide so when the scales comes there is a mirror of the sky. In New Year's Eve people threw white flowers in the ocean to honor the Queen of the ocean. Most of the restaurants down the ocean opened up at 10 pm and it costed 60 euro för a table. We celebrated at the hotel instead. 3 minutes to 12 pm it was all calm and we did not expect so much fireworks here, but then it all started at once and the fireworks was really cool. Now we are going to Praia do Frances south of Maceio. On the way I saw some houses that were builded by plastic bags and sticks from a tree.
On December 30, 2014 by
sofiesvarld
With
0
Comments -
Brazil
Vi har varit i lugna lilla Imbassai (norr om Praia do forte där ett av Tamars sköldpaddsprojekt finns) i 2 dagar. En liten by vid Bahias långa vackra kust med många palmer och finkornig ljus sand.
/We have been in the small and calm Imbassai (north of Praia do forte where one of Tamar´s turtle projects are) in 2 days. A tiny village along Bahias long and beautiful coast with lots of palm trees and bright sand.
Man når inte stranden med bil utan endast till fots vilket är skönt. På ett ställe hade det bildats naturliga pooler med riktigt varmt vatten där floden mötte havet, och folk satt bokstavligt talat i floden med bord och stolar. Varje kväll åt vi en delikat sallad med räkor och grillad mango på Jerimum cafe. Det fanns möjlighet att njuta av långa promenader, hästridning och avskildhet på stranden om man hade velat. Juli-oktober finns även chans att se valar.
//You can´t reach the shore with car. Instead you need to walk which is nice. In one place there were natural pools with really hot water where the river met the ocean, and people sat in the river with tables and chairs. Every night we ate a delicious sallad with shrimps on Jerimum cafe. There were some opportunites to enjoy long walks, horse riding and solitude on the beach if one wanted. July-october there are also a chance of watching whales.
Folk här i Bahia pratar ibland rakt ut med sig själva, så kallat mummel som ibland besvaras av andra runt omkring. Folk är inte heller rädda för att klaga högljutt, utbrista i sång eller skratt. Alla är väldigt trevliga och hjälpsamma. Överallt hörs dunket av reggaeton.
//People we met here sometimes talks with them self, small talk that once in a while is answered by strangers around. People are not afraid of complaining loudly, sing or laugh. Everybody is very helpful and nice. Everywhere there is a sound of reaggaeton.
Efter Morro de sao paulo tog vi båt, bil och därefter båt norrut. Vi var tvungna att åka via Salvador, en stad med hög kriminalitet. Väl där så tog vi snabbt en överdrivet dyr taxi till nästa buss mot Imbassai. På vägen hann vi se kvinnor uppklädda i gamla högtidsdräkter och antika byggnader.
Eftersom det är nyår är priserna skyhöga precis överallt och alla hotell är utsålda, men vi har hittat ett ställe att bo på i Aracaju, cashewnötsstaden nummer 1. Vi fick ta en omväg tillbaks till Salvador igen för att ta oss norrut till Aracaju. 7 timmar senare körde vi förbi Imbassai igen…(eftersom bussen inte stannar där). Raksträckan längs Costa dos coqueiros heter Estrada do coco/Linha verde, Brasiliens första ekologiska väg byggd på 60-talet och invigd 1993 för att förbättra turism och naturskydd. Vägen ligger på gott avstånd ifrån havet.
På hotellet blev det uppståndelse över att 2 svenskar anlänt. (Första svenskarna de hade haft här.)
Om två dagar åker vi vidare norrut till Praia do Frances.