Ellaidhoo – ett maldiviskt paradis för dykare
Paradis-ön Ellaidhoo Maldives by Cinnamon i norra Ari atoll på Maldiverna är döpt efter ett magiskt ljusfenomen som då och då kommer ner från himlen. Ön ligger i Indiska oceanen och är så pass liten så att man kan gå runt den på 15 minuter men här finns ändå allt som man behöver för en lyckad semester. Precis utanför ön, bara efter att ha simmat 20 meter ut så möts man av en vägg som stupar ner i havsdjupet på mer än 25 meter. Därifrån kan man även som snorklare se många färggranna fiskar i alla möjliga storlekar. Har man tur kan man se stingrockor, mantor, hajar, hummer, jackfish, barracudor, tonfisk och sköldpaddor.
Tröttnar man på att bada och dyka i det klara turkosa vattnet (27-30 grader varmt) så finns här även ett gym, en tennisbana, pingis, biljard, bordtennis, squash, fotbollsspel, en badmintonbana och ett spa. Annars kan man koppla av i någon av de två barerna som finns. Eftersom det är så mycket god mat under buffémåltiderna så går mycket tid åt att vila sig mellan måltiderna. 😉
Boendealternativen består av antingen bungalows (garden och beach), superior rooms (större rum) eller vattenvillor. Själv föredrog jag beach bungalowsen som hade utsikt mot sandstranden (de som ligger nära dykskolan vid piren, runt rum 302. Badrummen i bungalowsen är utomhus vilket är härligt.
En del rum har en hängmatta utanför fönstret.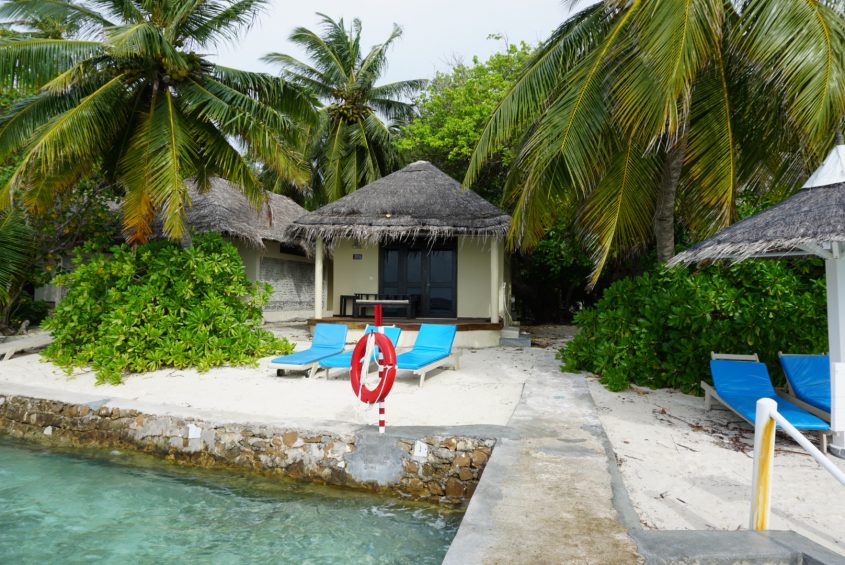 Bungalow 319 på motsatta ö-sidan av stranden hade full havsutsikt men inte mycket till strand. Runt hela ön fanns vågbrytare för att skydda mot erosion.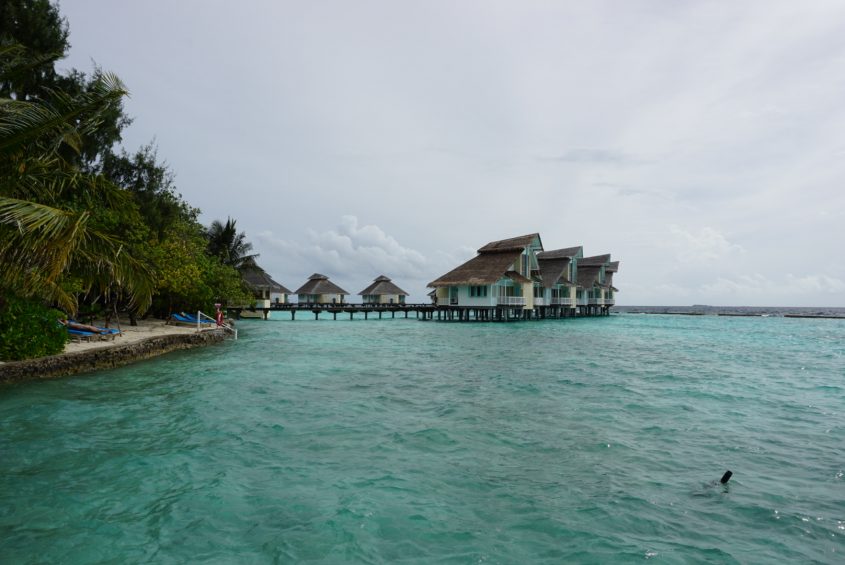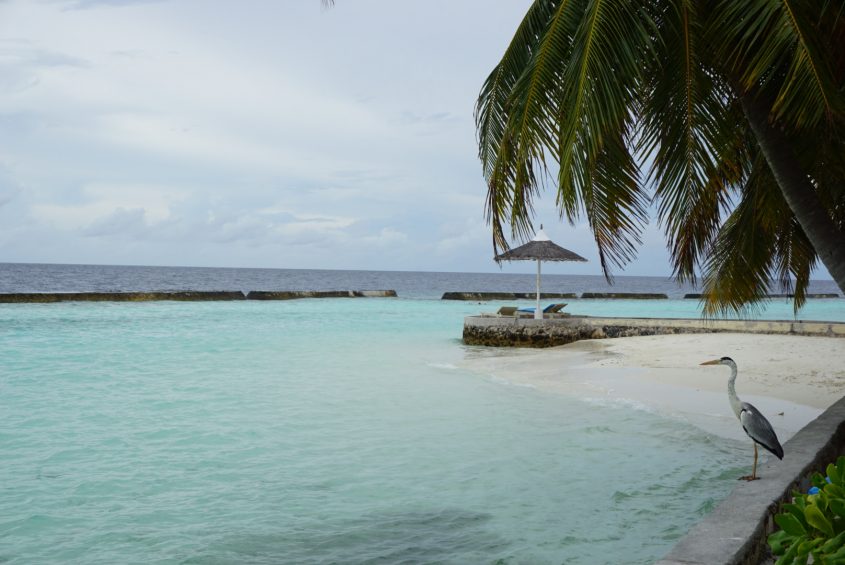 Från infinitypoolen och dess bar kunde man se solen gå ner varje kväll.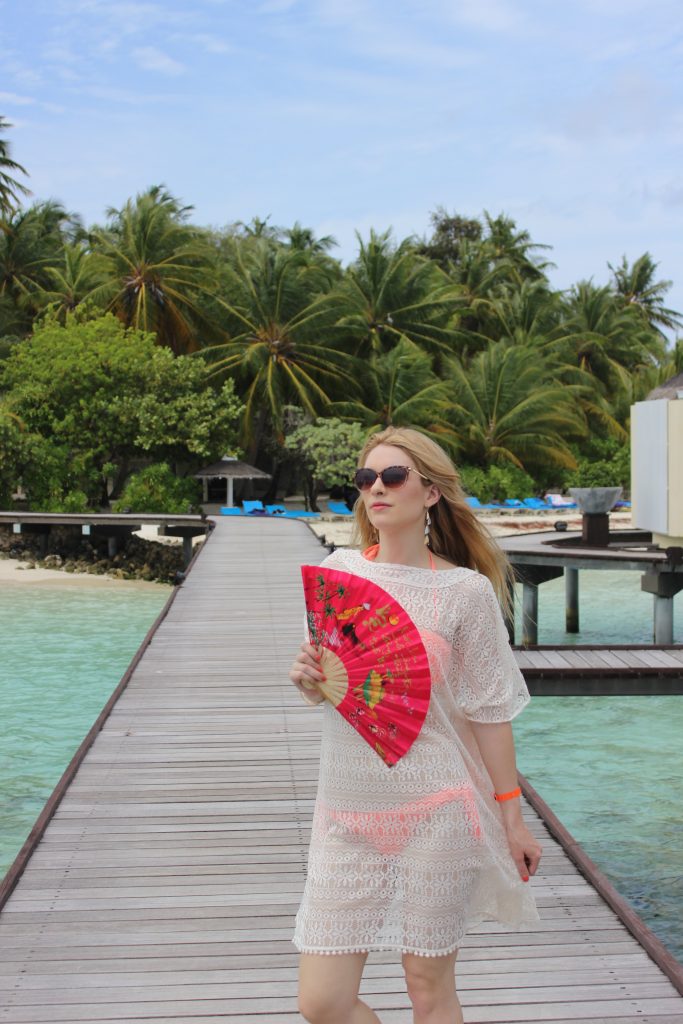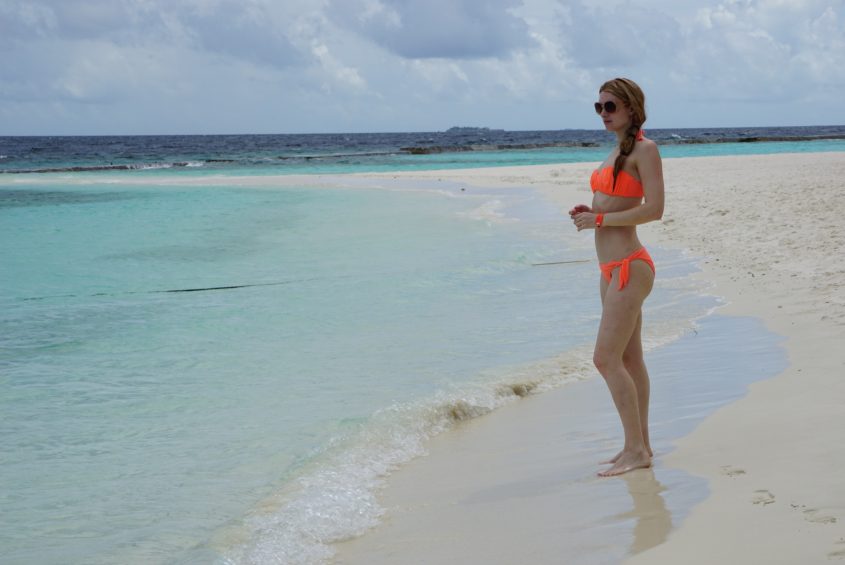 Stranden var underbar och sanden kritvit. Här var vattnet grunt och lugnt så att man kunde flyta runt på sin luftmadrass och svalka av sig. I luften är det nämligen alltid mellan 25-32 grader året runt. En av höjdpunkterna under vistelsen var när det på kvällen var strandfest här och vi dansade på ett golv som hade inbyggda vattenfontäner.
Varje dag klockan halv fem matade hotellpersonalen stora fiskar (1 m.) Det lär finnas 100 stycken jackfish här som vet att de ska få mat.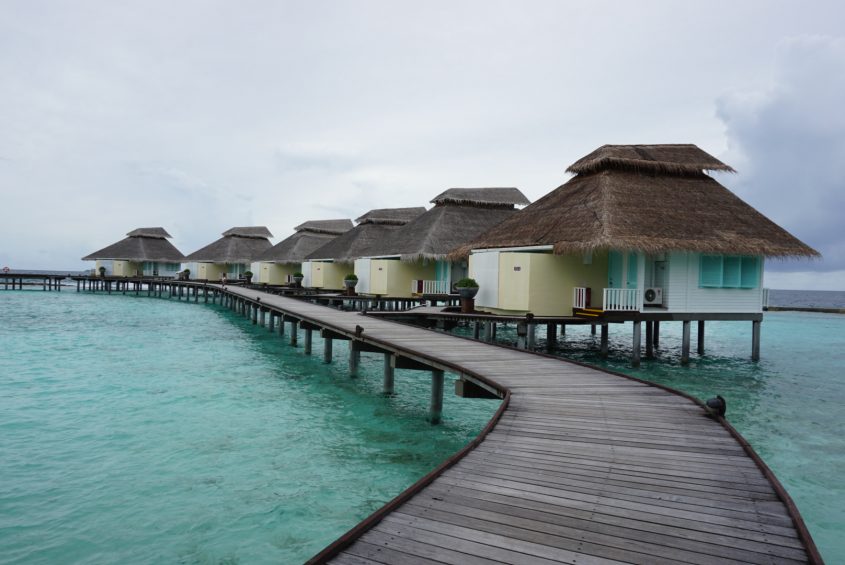 Vattenvillorna låg vackert ute på pålar i vattnet.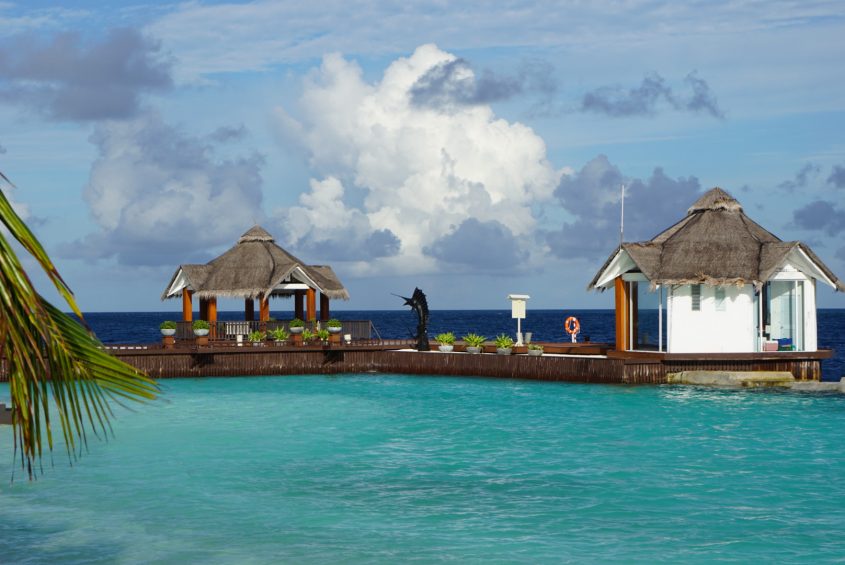 Här syns piren där båtarna kommer in. Vår transfer med båt var jobbig och tog 3 timmar pga dåligt väder men det ska egentligen ta 90 minuter. Sjöflygplanet tar 25 minuter och är bekvämare men kostar mer.
En paketresa till Ellaidhoo ifrån Sverige eller Danmark i två veckor inklusive mat, flyg, transfer och boende ligger på mellan 52000-83000 för två personer. Priserna varierar under årets lopp och jag har utgått ifrån lägsta rumsstandarden som är en bungalow. Om man istället vill boka alla delar separat via t.ex. resebokningssidor som Booking eller via hotellet går det såklart också bra men det är inte alltid det blir billigast så kolla noga innan. Många resebyråer upphandlar bra deals med sina hotell.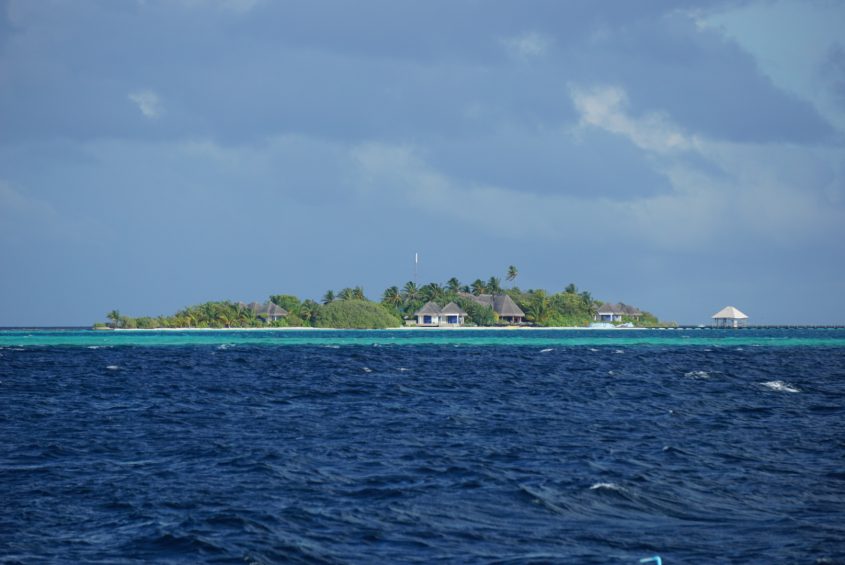 Hotellet är miljöcertifierat och på Cinnamonhotels hemsida skriver de om detta: "We are an award winning, Green Globe-certified resort, also holding ISO 12,000, 14,000 and 16,000 certifications."
//Ellaidhoo – a maldivian paradise for divers
The island Ellaidhoo Maldives by Cinnamon in North Ari Atoll in the Maldives is named after a magical light phenomena that occasionally come down from heaven. The island lies in the Indian Ocean and is so small that you can walk around it in 15 minutes but there is still everything you need for a successful holiday. Close by the shore, just after swimming 20 meters out you are met by a wall that drops down into the ocean of more than 25 meters. From there even snorkelers can see many colorful fish in all possible sizes. If you are lucky you can see stingrays, manta rays, sharks, lobsters, jackfish, barracuda, tuna and turtles.
If you get tired of swimming and diving in the clear turquoise water (27-30 degrees Celsius), there is also a gym, a tennis court, table tennis, billiards, table tennis, squash, football, a badminton court and a spa. Otherwise you can relax in one of the two bars available. Because there is so much good food in the buffet meals there goes a lot of time to rest between meals. 😉
Accommodation options consist of either bungalows (garden and beach), superior rooms (larger) or water villas. I preferred the beach bungalows which had a view of the sandy beach (the ones close to the diving school at the pier, around room 302. The bathrooms in the bungalows are outdoors, which is lovely. Some rooms also have a hammock outside the window. Bungalow 319 on the opposite island side of the beach had a full view but not much beach. Around the whole island there was a breakwater to protect against erosion.
From the infinity pool and its bar, you could see the sun go down every night. Here you also find the beautiful water villas. They are placed out on stilts in the water. 
The beach was wonderful and had pure white sand. Here the water was shallow and calm so you could float around on your air mattress and cool off. In the air, it is always between 25-32 degrees year round. One of the highlights of the stay was one of the evenings when there was a beach party here and we danced on a floor that had water fountains.
Every day at half past four hotel staff fed large fish (1 m). It is said to be 100 jackfish here who know they will get food.
Transfer: Our shuttle boat was not so nice, it took 3 hours due to bad weather but it will normally take only 90 minutes. The sea plane takes 25 minutes and is more comfortable but cost more.
A package holiday to Ellaidhoo from Sweden or Denmark for two weeks including food, flights, transfers and accommodation is between 52000-83000 SEK for two people. Prices vary throughout the year and I have looked for the lowest room standard which is a bungalow. If instead you want to book all parts separately by example travel booking sites like Booking or through the hotel, it is of course also an option,  but it is not always the cheapest, so check carefully before. Many travel agencies procure good deals with their hotels.
This hotel is environmentally certified and on cinnamonhotels website they write about this: "We are an award winning, Green Globe certified resort, ALSO Holding ISO 12,000, 14,000 and 16,000 certifications."