Promenad genom toori-portarna vid Fushimi Inari Shrine i Kyoto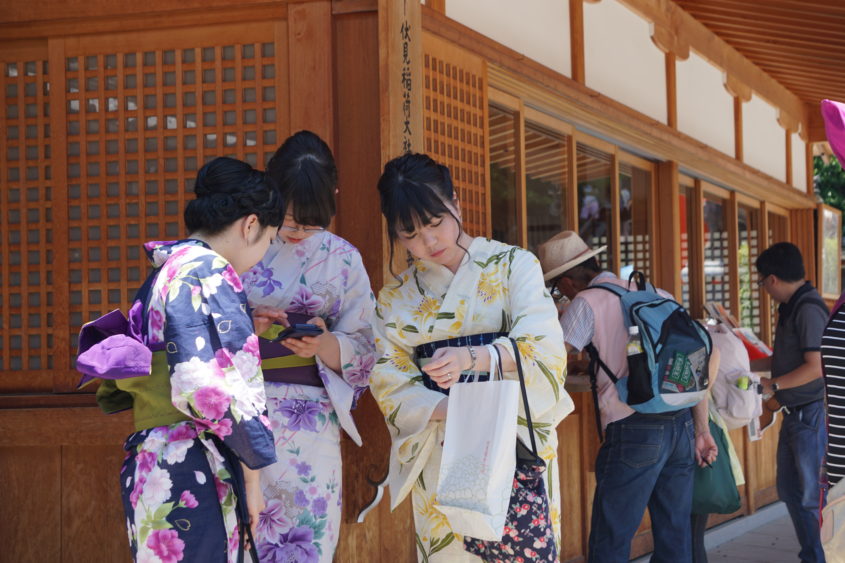 Känner du för lite vandring och vill se det berömda Fushimi Inari i Kyoto är detta en fantastisk plats. MEN! Du måste gå en bra bit ifrån alla människor om du vill vara ensam. Vi var här i juni och det var så varmt så jag kan tipsa om att ta med vatten, läsk och snacks. Eller ta med pengar så att du kan köpa på vägen upp när du behöver det. Ingången var helt fullsmockad av folk som sprang runt och tog selfies. Men folk är väldigt artiga i Japan och ger ändå varandra utrymme. Mystiken och skönheten av denna plats är bäst upplevd om du går hela vägen till toppen där det är lugnt och fridfullt och du kan ta in atmosfären.
//Are you up for some walking uphill and want to see the famous sacred shrine Fushimi Inari in Kyoto this is an amazing place. BUT! You have to walk a long way away from the crowds if you want to have a moment by yourself. We were here in June and it was very hot so bring some water or soda (or take som cash so you can by it here when you need it). The "entrance" of this place was a bit crazy. People were running around everywhere wanting to take selfies. But people are polite here in Japan and they try to give each other space. Although the mystery and beauty of this place is best discovered if you go for the top where it is quiet and you can soak in the atmosphere.
SparaSpara
SparaSpara
SparaSpara
SparaSpara