De flesta som hör destinationen Maldiverna tänker förmodligen på nygifta par som åker dit för att fira sin smekmånad. Med all rätt. Maldiverna är ett romantiskt paradis och landet livnär sig idag främst på turism och fiskeindustrin. Men det som många kanske inte vet om är att det är en plats som kan passa många olika typer av semesterfirare med olika budgetar, allt ifrån småbarnsfamiljer till unga par och pensionärer. Välj gärna ett miljöcertifierat boende.
Det är bra att läsa på ordentligt innan så att man har rätt förväntningar på ön man väljer och vilken typ av boendestandard som man önskar. Många resenärer skriver på Tripadvisor om sina upplevelser vilket kan vara värdefullt att läsa. Är man t.ex. ute efter att dyka mycket kan man lägga pengarna på dykning istället för att ha hög rumsstandard, då räcker det oftast med en bungalow. Är man dock ute efter mer lyx och komfort så kan hela upplevelsen höjas rejält om man väljer en villa antingen på stranden eller ute på pålar i vattnet. Många hotell har möjlighet till all-inclusive (frukost, lunch, middag, snacks, dryck m.m) eller half board (halvpension som kan vara tex frukost och middag). Det kan vara dyrt att köpa mat på plats. En drink kan kosta 12 dollar och en trerätters för 2 kan kosta 120 dollar.
Det är även bra att kolla upp innan om det är hög- eller lågsäsong då det kan regna och blåsa en del under lågsäsongen (maj-november). Fördelen är dock att det är svalare, du bränner inte dig lika lätt och att man kan komma undan lite billigare. Allra bäst är att boka allt hemifrån innan du åker. Ett tips är att be olika resebyråer att ta fram offerter. Ge dem isf info om önskade datum som ni vill åka, maximal budget, vilken typ av boendestandard, vilken flygplats ni vill åka ifrån och andra preferenser som t.ex. transferönskemål (båt eller flyg). Det kan nämligen skilja mycket i pris beroende på resebyråns utbud så ge det lite tid innan ni bestämmer er. Själv bokade jag en kombinationsresa till 2 olika öar via Ticket och jag tycker att de gav en bra och personlig service. Vi åkte ifrån Köpenhamn och mellanlandade 6 timmar senare i Doha. Därefter landade vi i Malé efter ca. 4,5 timmar.
För att sedan komma ut till sin ö så tar man antingen båt- eller flygtransfer ifrån Malé (har bokats i förväg och i samband med vald paketresa). Det finns informationsdiskar på flygplatsen med representanter från de olika hotellen som hjälper en till sin transfer. Vid fint väder är båt oftast smärtfritt och billigast men då detta är en chansning skulle jag rekommendera flyget då detta känns säkrare och är en mer behaglig upplevelse (mindre risk för sjösjuka) där man även kan se alla vackra öar ovanifrån och alla möjliga nyanser av turkost. Dock är flyg inte alls bra för miljön…
På flygplatsen kan du även ta ut lite pengar i lokala valutan om du inte redan har med dig kontanter. Det är bra att ha en del små valörer i t.ex dollar så att man kan ge dricks under resans gång till till exempel serveringspersonal och städare m.fl. Det är viktigt att kolla upp så att arbetarna har bra arbetsvillkor innan man väljer boende.
Vad ska man då packa med sig förutom det vanliga? Jag skulle säga följande: Snorkelset, fenor (kan kosta 5 dollar per dag att hyra), många flaskor vattenfast solcreme med faktor 30 och 50 (kan kosta 260,- på plats), solglasögon i plural, t-shirt att snorkla i, hårbalsam i mängder, snacks (chips, nötter, godis), uppblåsbar badmadrass, eluttagsomvandlare, aftersun, resorb, myggspray, hårborste, ficklampa, träningskläder, vita kläder (passar bra in i miljön och till eventuella White partyn), hårband, actionkamera.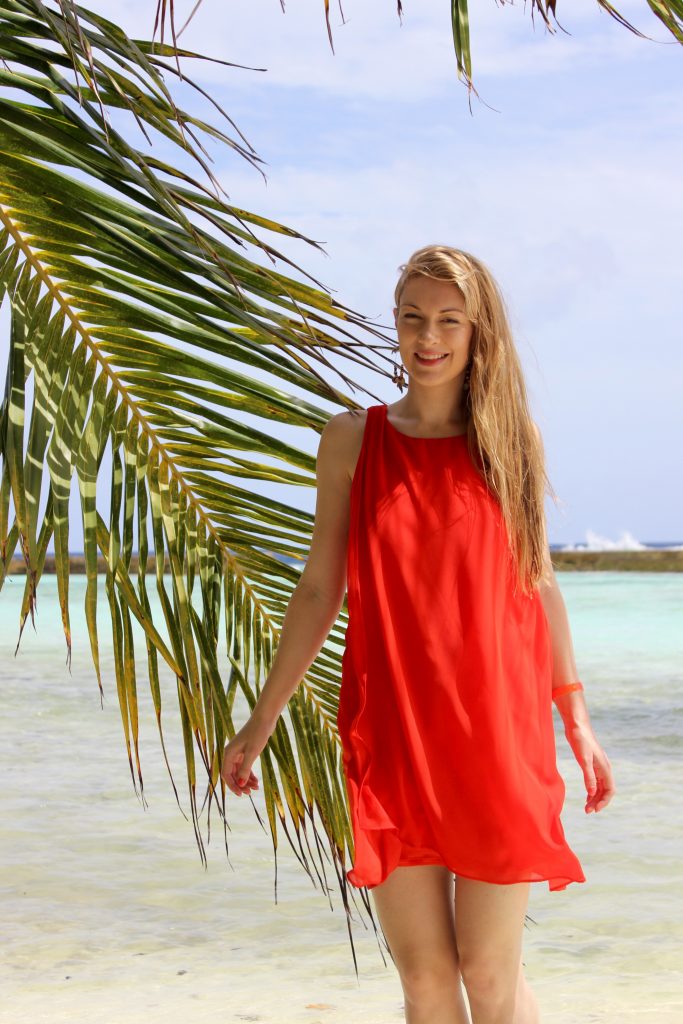 Bilden ovan är tagen på Ellaidhoo som ligger i norra delen av Maldiverna. //Image from Ellaidhoo in the north part of the Maldives.
//How to prepare for the Maldives – dream destination
Most people who hear the destination Maldives are probably thinking of newlyweds who go there to celebrate their honeymoon. With all rights. Maldives is a romantic paradise. But what many may not know is that it is a place that can suit many different types of holidaymakers with different budgets, from small children to young couples and retirees.
It is a good idea to read properly before so that you have the right expectations on the island you choose and the type of housing standards desired. Many travelers write on TripAdvisor about their experiences, which can be valuable to read. Are you looking to dive a lot you can spend the money on diving instead of having high room standard, then it is usually sufficient to book a bungalow. Are you looking for more luxury and comfort, the whole experience can be raised significantly if you choose a villa either on the beach or on stilts in the water. Many hotels have the opportunity for all-inclusive (breakfast, lunch, dinner, snacks, beverages etc.) or half board (which can be for example breakfast and dinner). It can be expensive to buy food on site. A drink can cost $12 and a three course meal for two can cost $120.
It is also a good idea to check before if it's high or low season when it might be rainy and windy in the low season (May-November). The advantage is that it is cooler, you do not burn yourself as easily if it is cloudy and that you can get away a little bit cheaper. The best thing is to book everything from home before you leave. One idea is to ask different agencies to provide travel quotes. Give them info on your dates you want to travel, maximum budget, the type of accommodation standard, which airport you want to go from and other preferences such as transfer requests (sea or air). It can differ greatly in price depending on the travel agency so give it some time before you decide. I booked a combination trip to two different islands through Ticket in Sweden and I think they gave a good and personal service. We left from Copenhagen and six hours later we had a quick stopover in Doha. Then we landed in Male after 4.5 hours.
To come out to your island you take either a boat or airport transfer from Malé (it has been booked in advance and associated with the selected package). There are information desks at the airport by representatives from the different hotels that help you to your transfer. In fine weather, the boat is usually painless, and the cheapest, but then this is a real gamble, and I would recommend the flight because this feels safer and is a more pleasant experience (less risk of seasickness) where you can also see all the beautiful islands from above and all the possible shades of turquoise . At the airport you can also take out some money in local currency unless you already have with you some dollar. It is good to have some small amounts so that you can leave a tip along the way to, for example to the catering staff and cleaners.
What should we pack? I would say the following: Snorkelset, fins (can cost $ 5 per day to rent), many bottles of water resistant sunscreen with factor 30 and 50 (can cost 25 dollar on the spot), sunglasses, t-shirt to have when you go snorkelling, conditioner in amounts for your hair, snacks (crisps, nuts, candy), inflatable matress, outlet converters, aftersun, resorb, mosquito spray, hair brush, flashlight, clothes to have in the gym or other activities, white clothes (fits in well with the environment and for possible white parties), headbands, action camera.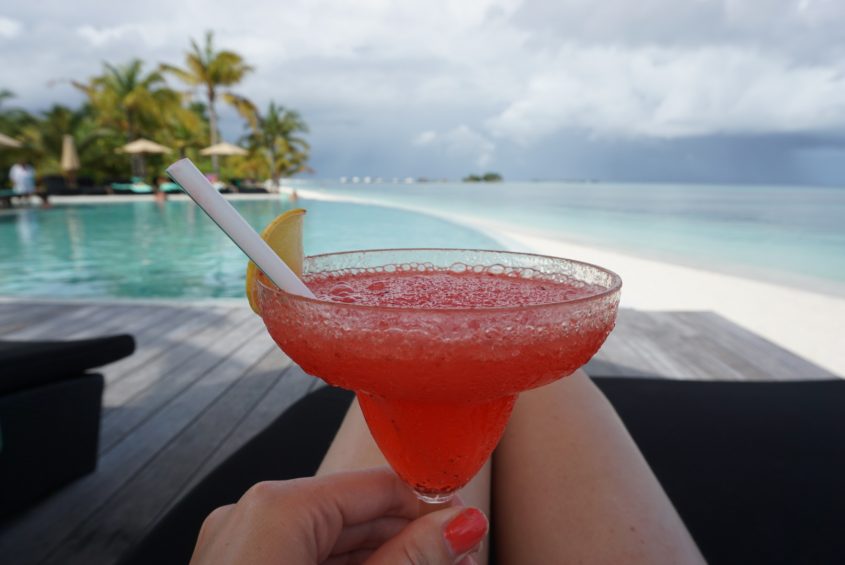 Bilderna är tagna på ön Kuredu. //Images from Kuredu island.