Djurlivet på Maldiverna
Under ytan på Maldiverna öppnar sig en helt annan värld. Vattnet är varmt (runt 30 grader) och djurlivet rikt. Här simmar man med sköldpaddor, revhajar, stingrockor och färgglada fiskar. Det kan vara lite läskigt i början om man är ovan vid att snorkla men då kan man hålla sig nära strandkanten och ha på sig en flytväst (man ser mycket ändå). Man ska dock alltid hålla ett öga på triggerfiskar så att man inte stör deras revir. (De ser ut som ett strykjärn i ansiktet.) Har man tur kan man få se stora mantor majestätiskt sväva fram i det blå havet och en och annan delfin. Dykningen är bra och lockar dykare från hela världen. Det är dock rätt så dyrt att dyka på Maldiverna så det kan vara smart att ta sitt dykcertifikat någon annanstans. De varma och grunda lagunerna fungerar nästan som ett dagis för små bebis-stingrockor och revhajar. När man snorklar och dyker är det viktigt att inte röra vid koraller och fiskar. Både koraller och djur, såsom sköldpaddor är otroligt känsliga.
//Animal life in the Maldives
Under the surface of the Maldives a whole different world opens up. The water is warm (around 30 degrees), and wildlife abounds. Here you swim with turtles, reef sharks, sting rays and colorful fish. It can be a little scary in the beginning if you are unfamiliar with how to snorkel but then you can stay close to the shore and wear a life jacket. However, one should always keep an eye on the trigger fish so as not to disturb their territory. (They look like an iron in the face.) If you are lucky you may see large manta rays majestically swim into the blue sea and occasional dolphins. The diving is good and attracts divers from all over the world. However, it is quite expensive to dive in the Maldives so it might be smart to take your diving certificate elsewhere. The warm and shallow lagoons acts almost like a nursery for small baby-sting rays and reef sharks. When you snorkel and dive it is important not to touch the coral and fish. Both corals and animals, such as tortoises are incredibly sensitive. On land, you can see flying foxes and terns move between the trees and an occasional rabbit or cat jump out of the bushes. There are also curious small lizards, crabs and herons. If you're unlucky, you may encounter the occasional cockroach and tenacious mosquitoes so do not forget the mosquito spray.
På land kan man se flygande hundar och tärnor röra sig mellan träden och en och annan kanin eller katt hoppa fram ur buskarna. Här finns även nyfikna små ödlor, krabbor och hägrar. Har man otur kan man stöta på en och annan kackerlacka och envisa mygg så glöm inte myggsprayen.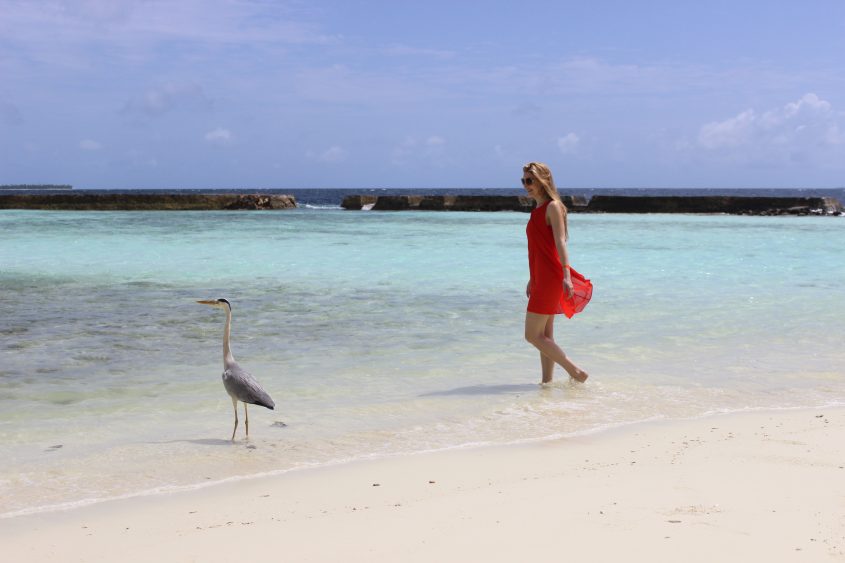 Häger /Heron