Smålands egen Michelinrestaurang : PM & Vänner
I Växjö i Småland kan man stoltsera med Michelinkrogen PM & Vänner. Med lokala råvaror från de småländska trakterna fås en ytterst unik upplevelse vad gäller gastronomiska smaker. Restaurangen har nu återigen öppnat för säsongen och de använder sig av tekniker och texturer från klassiska och även moderna kök där allt utgår ifrån filosofin skog, äng och sjö. De använder säsongsbetonad mat och odlar även egna grönsaker.
//In Växjö in Småland there is a great Michelin restaurant called PM & Vänner. With local ingredients from Småland regions you get a very unique experience in terms of gastronomic tastes. The restaurant has once again opened for the season and the use of techniques and textures from the classical and also modern kitchen where everything is based on the philosophy of forest, meadow and lake. They use seasonal food and even grow their own vegetables.

I växthuset på PM & Vänners tak gror bland annat tomater och härliga kryddväxter. //In the greenhouse on PM & Vänner´s roof tomatoes and lovely herbs grow.
2015 vann de utmärkelsen Årets hållbara krog på Restauranggalan. Men detta är bara ett av många priser som de har erhållit genom åren. Med årets tilldelade Michelinstjärna i bagaget gäller det att boka bord i tid om man vill äta i den prisbelönta matsalen. World of fine wine har utmärkt deras vinkällare (som för övrigt innehåller över 3700 olika viner och över 15000 viner) till en av världens 300 bästa. Det är med stor kunskap och respekt som deras kunniga sommelierer guidar en genom vinlistorna för att matcha maten som erbjuds på menyerna. Vi fick en fantastiskt fin service av bland andra chefsommeliern Ruben Sanz Ramiro och hovmästare och sommelier Ulrika Bohman. //2015 they won the Year Award sustainable tavern in the Restaurant Awards. But this is just one of many awards that they have received through the years. This year they were awarded with a Michelin star so you have to book a table in advance if you wish to dine in the award-winning dining room. World of Fine Wine has distinguished their wine cellar (that includes over 3700 different kind of wines) to one of the world's 300 best. It is with great knowledge and respect their knowledgeable sommeliers will guide you through the list of wines to match the food offered on the menu. We got a fantastic service by, among others operative head sommelier Ruben Sanz Ramiro and sommelier and head waiter Ulrika Bohman.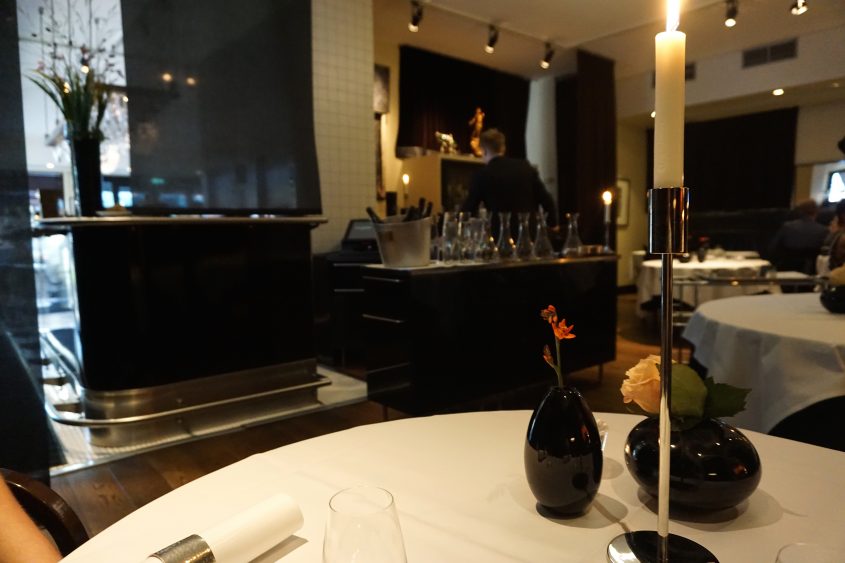 PM & Vänners matsal.
//Pm & Vänner´s dining room.
Smakmenyerna ändras beroende på säsong och vad naturen har att erbjuda. Vi åt smakmenyn Tabberas med tillhörande vinpaketet Menu grand vin vilket var en fantastisk upplevelse som berörde alla sinnen. Innan maten fick vi in varsin varm sten för att få den rätta känslan och komma nära naturen. Därefter följde spännande amuser med bland annat vaktelägg. Whiteguide 2016 skriver följande om amuserna:" Miniatyrglasstrut med valnötsinfusion, karelsk kaviar och en klick len grädde. En remsa torkad, smakstinn palsternacka med syltad pumpa och örtkräm. Potatischips med hyvlad getost och kräftmajonnäs. Näringsvärdet växlar upp när välgräddat bröd dyker upp med tre klickar – kokt lardofett med enbär och äpple, smör från Lörudden, och fet röra på rökt sik".
Menyn Tabberas bestod av följande: Kräfta 2016, Gös med bondbönor från Ekobacken, lardo spetskål, tryffel samt äppelpue. Lokala svampar och rotselleri. PMs snacks. Mousse på naturlig anklever, puré på paradisäpplen, inlagd polkabeta från deras trädgård samt svamppulver. Majsanka från Munka-Ljungby (serverad av självaste köksmästaren) med svarta vinbär från deras trädgård. Snapsar a la PM. En gets mjölks ost. "Stubbe" med höstens körsbär. Blåbär från Värend. Efter maten fick vi chokladtryffel med blåbär och marmeladkuber.
 //Tasting menus change depending on the season and what nature has to offer. We ate taste menu Tabberas with associated Menu grand wine which was a fantastic experience.
Till kräftan drack vi ett gott vällagrat spanskt vin från 1996: Lopez de Heredia, Vina Tondonia Rioja Gran Reserva, La Rioja.
Vill man passa på att kombinera sin matupplevelse med en övernattning i Växjö finns även design- och gastrohotellet PM Hotel (i samma byggnad som restaurangen), de har 74 unika rum och sviter. På taket finns även en pool och ett japanskt bad.
//Would you like to combine your dining experience with an overnight stay in Växjo you can stay at design and gastro hotel PM Hotel (in the same building as the restaurant), they have 74 unique rooms and suites. On the roof there is a swimming pool and a Japanese bath.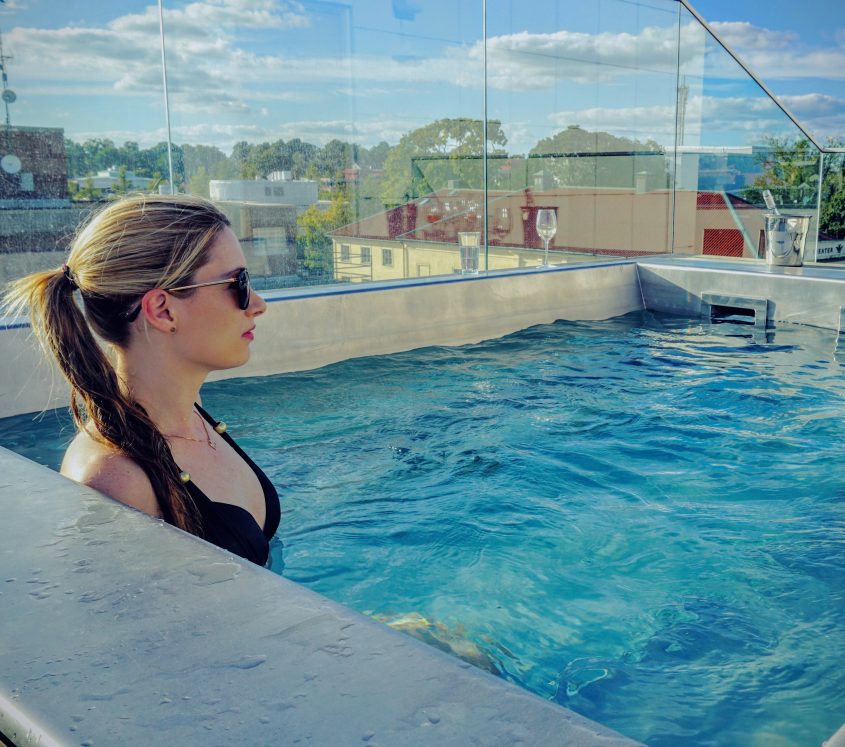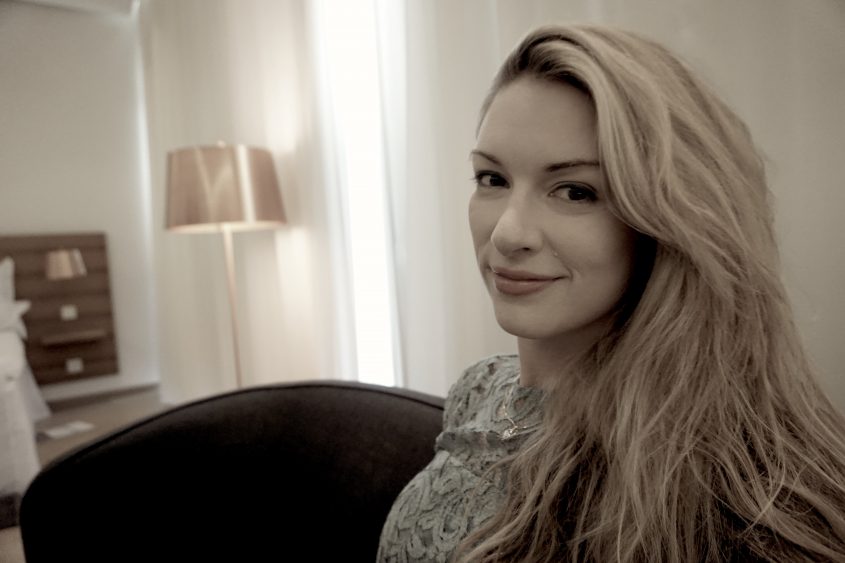 Juniorsviten vi bodde i var rymlig och inredd med kalksten ifrån Öland. Här fanns bland annat en skön soffa och badrummet hade ett eget badkar.
//The Junior Suite we stayed in was spacious and decorated with limestone from Öland. It had a comfortable couch and the bathroom had a bathtub.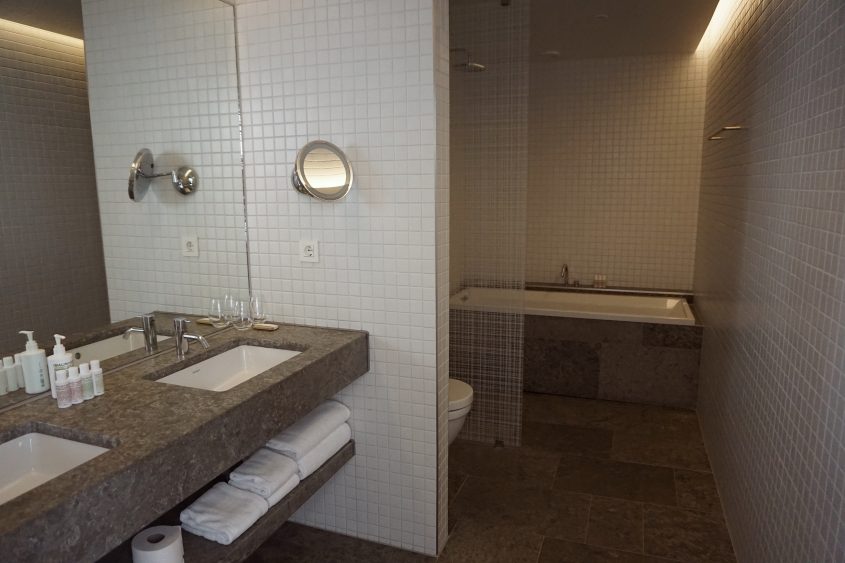 I badrummet väntar sköna badrockar och tofflor.
//In the bathroom you can find cozy bathrobes and slippers.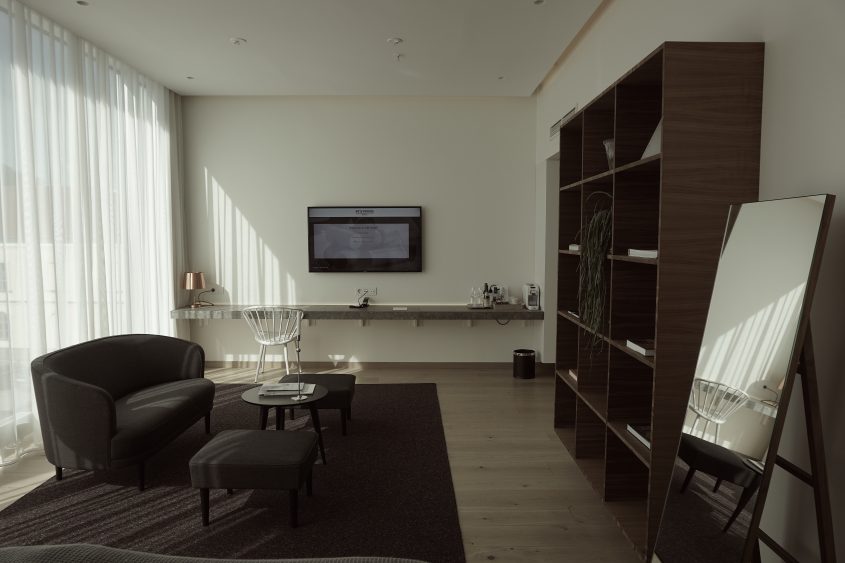 En av PM & Vänners 10 juniorsviter på 40 kvm. //One of PM & Friends 10 junior suites of 40 sqm.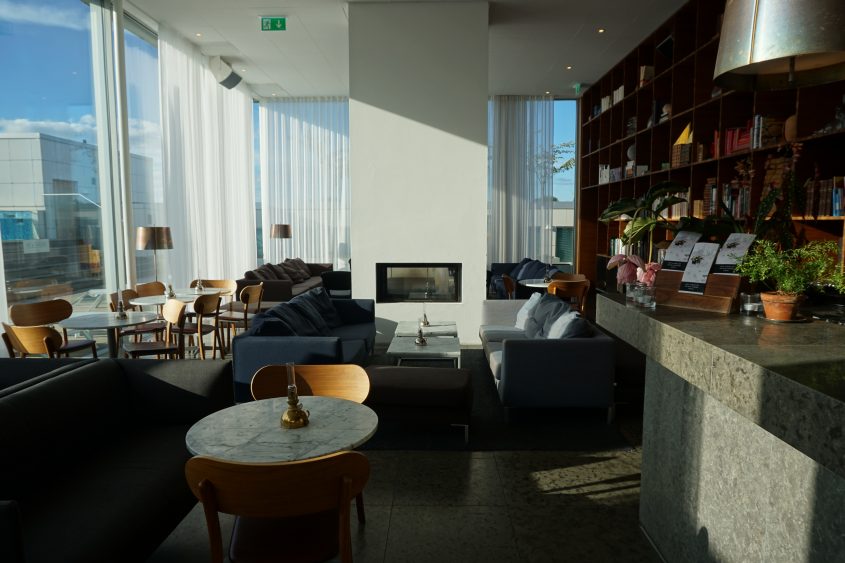 I caféet och baren TAK har man utsikt över Växjös takåsar. //The café and bar TAK has views of Växjö's rooftops.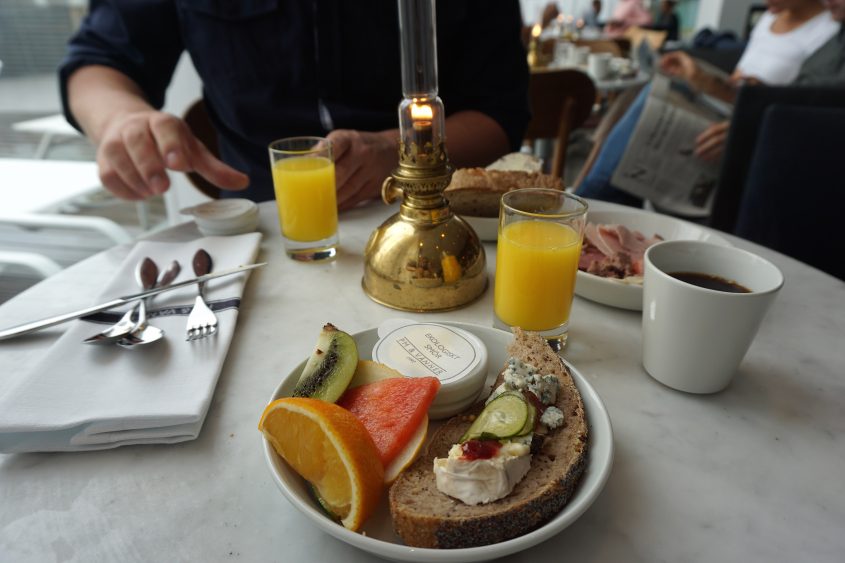 På morgonen kan man avnjuta en härlig frukostbuffé med fantastiskt gott nybakat bröd från PM & Vänners bageri Bröd & Sovel.
//In the morning you can enjoy a delicious breakfast buffet with amazing good freshly baked bread from the PM & Vänner´s bakery Bread & Sovel.