En dag på Maldiverna
Det är tidig morgon och det tar några sekunder innan jag inser vart jag är…jag är på Maldiverna! Jag har gått och längtat så länge och nu är jag faktiskt äntligen här. Jag måste nypa mig lätt i armen för att verkligen förstå att jag inte drömmer.
Jag går ut från balkongen och blickar ut över den vita sandstranden. Sedan sätter jag mig en stund i skuggan under en av palmerna och blickar ut över det turkosa vattnet. Jag älskar hur vågorna har svept bort alla fotsteg och plattat till sanden så att den ligger alldeles slät. Bara jag nu inte får en kokosnöt på mig! 😉 Jag kikar upp mot palmen ovanför. Nädå det ser lugnt ut.
Det är på morgonkvisten som det är bäst snorkling så det är nu det gäller att komma ut i vattnet. Vattnet ser klart och stilla ut. Men frukostbuffén hägrar..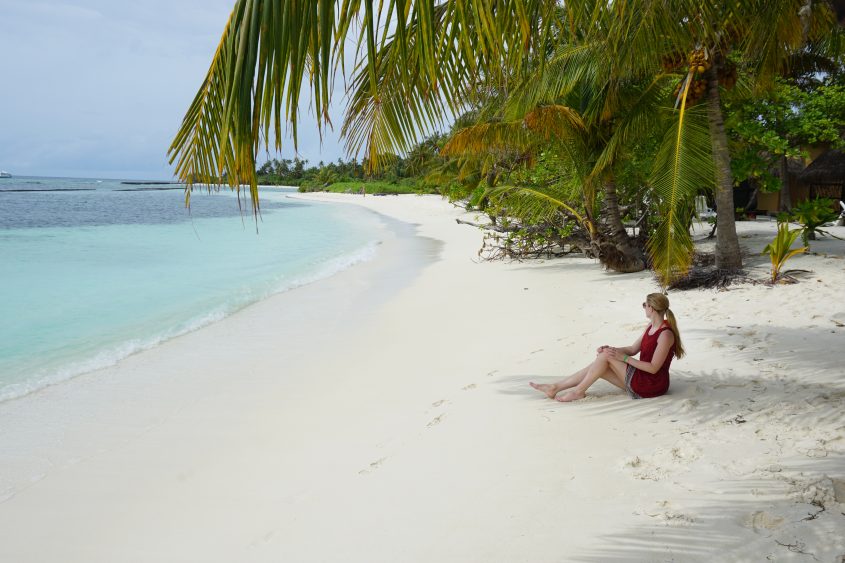 Är det semester så är det, jag bara måste ha Nutella och croissant! Och så får man ju inte missa all god exotisk frukt som finns. Och just det, nygjorda våfflor!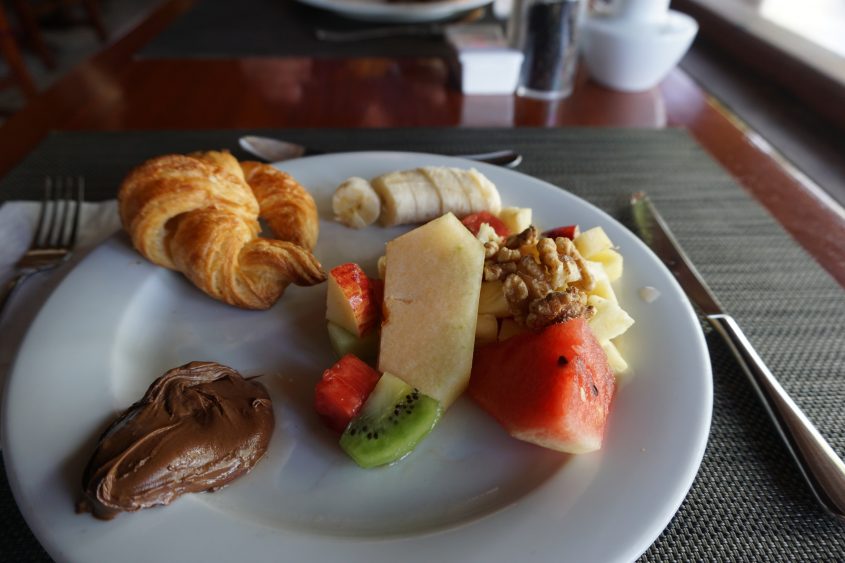 Mätta och belåtna efter frukosten beger vi oss hem till vår bungalow. Vi måste vila lite innan snorklingen och få på rejält med solcreme. Idag hoppas vi få se en sköldpadda när vi snorklar. Det lär finnas massor av 70-åriga gröna sköldpaddor som betar sjögräs några 20-tal meter ut längs med ena sidan av Kuredus ö.
På vägen till vår bungalow går vi längs med strandkanten. På ett ställe finns det en lång sandbank som man kan gå rakt ut i vattnet på när det är lågvatten. Det känns lite häftigt och man får känslan av att nästan kunna gå på vatten.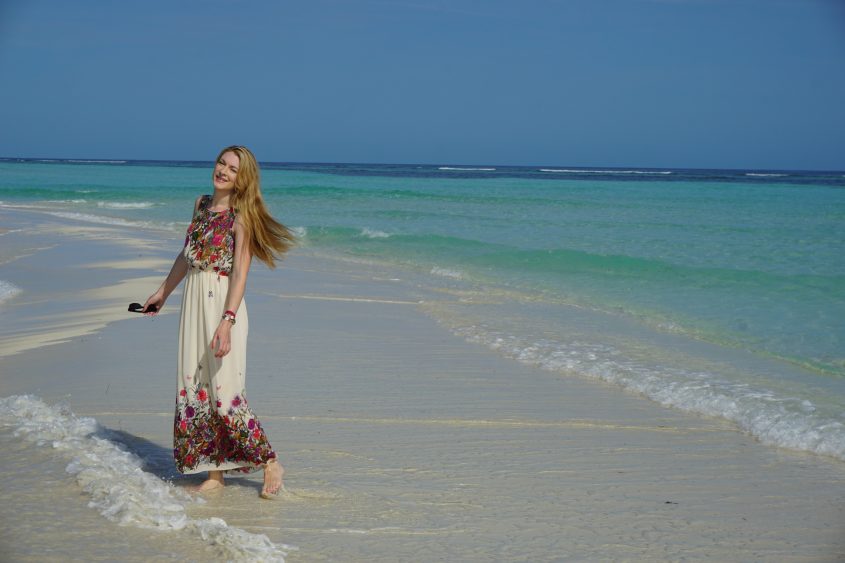 Dags för snorkling! Vi hoppar i vid hamnen där båtarna kommer in. Det är djupt direkt och jag försöker ha full koll både nedanför och ovanför ytan. Vem vet om det kommer en revhaj? 🙂 Plötsligt närmar sig ett flygplan! Jag håller mig i kajkanten samtidigt som jag försöker hålla för båda öronen samtidigt som jag trampar vatten. Vattenflygplanet glider sakta in mot piren med ett öronbedövande ljud. Piloten har full koll runt omkring och jag vinkar till passagerarna i min snorkelmask. De tittar storögt på mig i vattnet och undrar nog om man verkligen får snorkla här. Det får man, men det gäller att man har koll runtomkring så man inte stör flygtrafiken.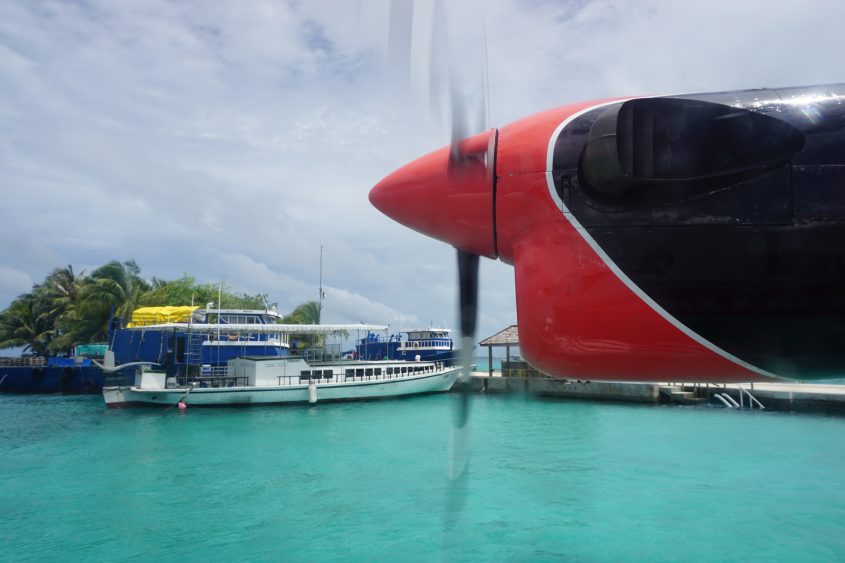 Nu är det lugnt igen och alla har gått av planet. Jag kan sakta simma ut mot revet. Det finns bojar utsatta på några ställen som hjälper en att finna det och det fungerar även som platser där man kan vila sig. Strömmarna är starka så det gäller att sakta flyta med och inte använda alltför mycket energi. Det är viktigt att alltid vara två om något händer.
Under ytan är det som en helt annan värld. Stora stim med blåa och svarta fiskar sveper sakta fram och glittrar till i solljuset som tränger ner genom ytan. Korallerna är dock inte så färggranna längre på grund av den koralldöd som tyvärr drabbat Maldiverna och många andra ställen i världen bl.a. på grund av en förhöjning av havstemperaturen, men det är fullt med liv ändå på de fiskar jag ser simma kring korallerna.
Det gäller att ha koll på bland annat triggerfiskarnas revir vid denna tid på året, de kan gå till attack om de blir störda. Vi stöter på en och annan men simmar snabbt ifrån dem. Snart närmar vi oss kusten och bottnen blir mer och mer täckt av sjögräs. Då plötsligt händer det. En stor sköldpadda simmar graciöst förbi oss. Vi simmar med en bit och begrundar den. Efter en stund kommer den upp till ytan för att andas och då ser man verkligen hur stort huvudet är. Den är fantastiskt vacker!
Väl inne på stranden igen pustar vi ut efter den långa simturen och bestämmer oss för att lägga oss en stund vid poolen med något uppfriskande att dricka och en bra bok. Mörka moln tornar upp sig längre bort så det är nog regn på gång. Hoppas det bara är tillfälligt så vi kan åka båt och spela golf ikväll. 🙂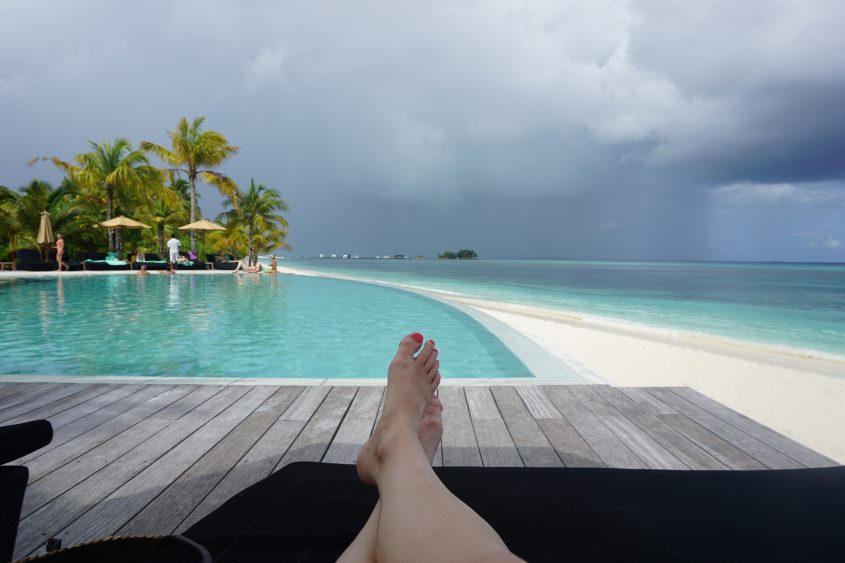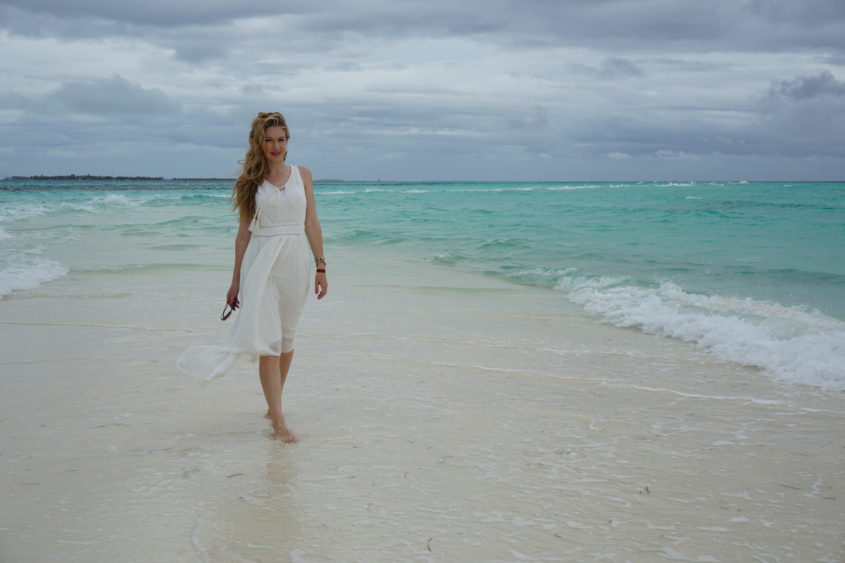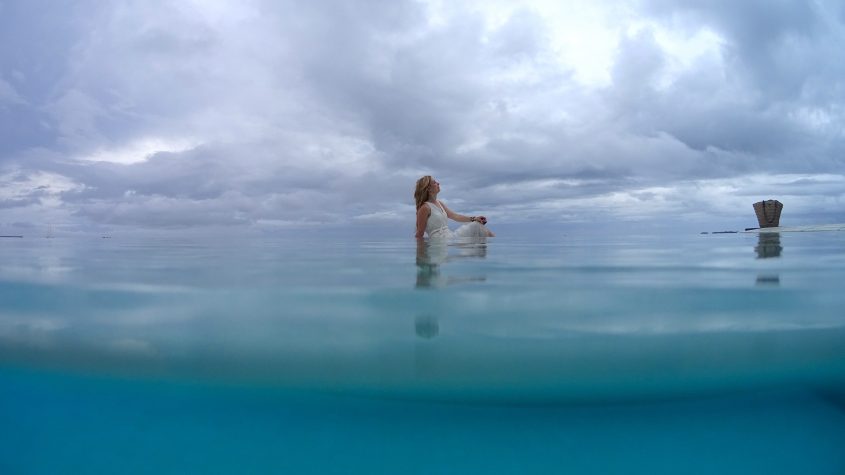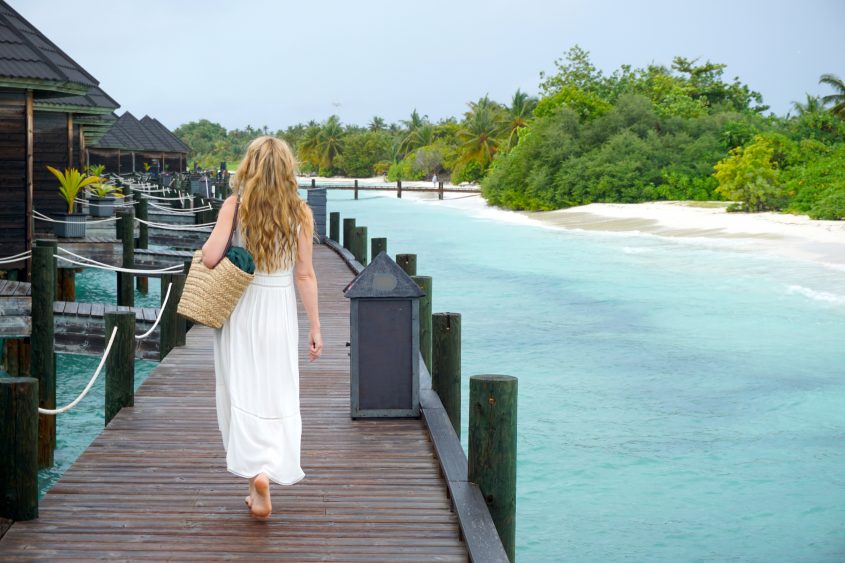 Regnet drar snabbt förbi och vädret blir något bättre. Det är dags för en golf och båt-tur! Inte helt lätt att komma på en bra outfit till den kombon. 😉 En klänning får duga.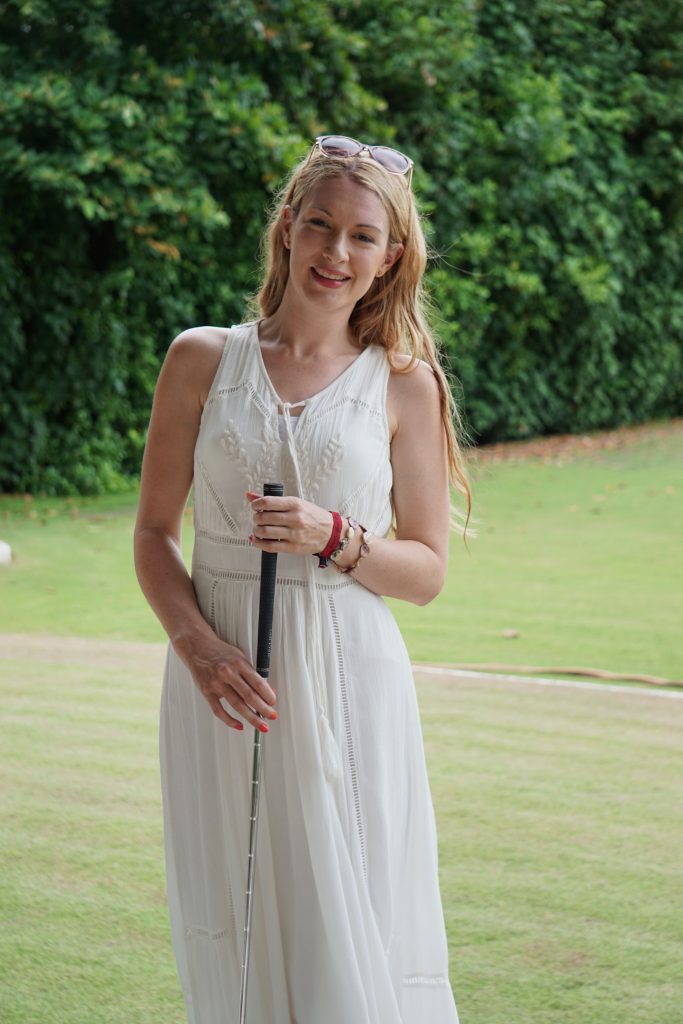 Efter några träningsslag på golfbanan beger vi oss sedan till hamnen där kvällens båtutflykt "Sunset Cruise" går av stapeln. Har man tur kan man få se massvis med delfiner vid båten och häftiga färger i skymningen.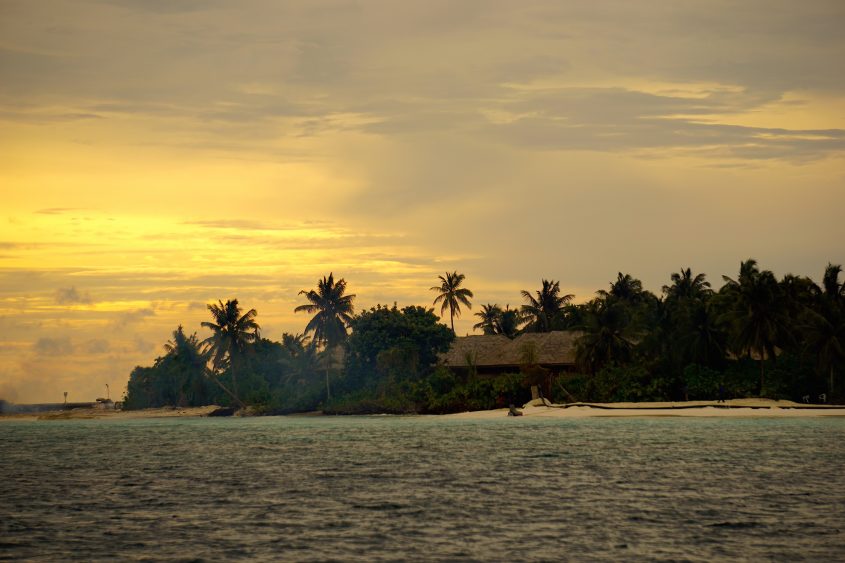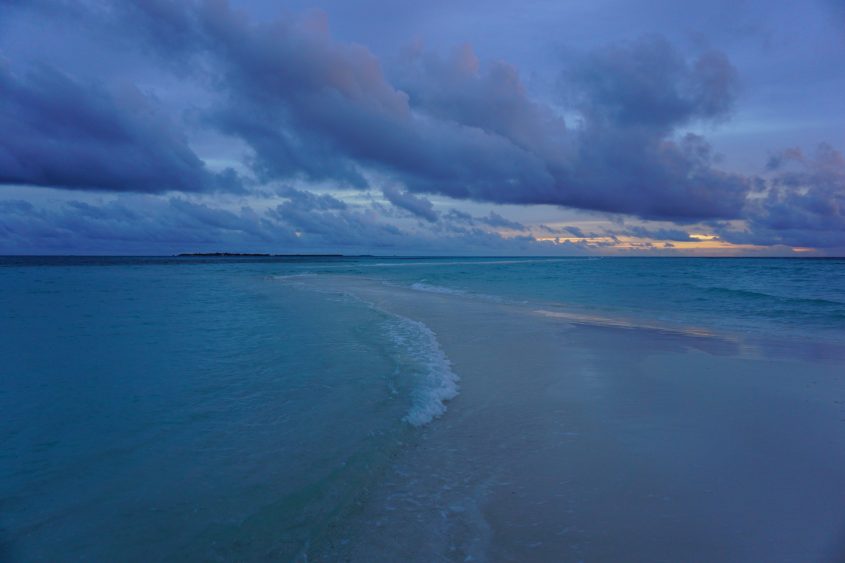 Nu är det äntligen dags för kvällsmat! Det finns mycket gott att välja på. Vart ska man börja? Jag väljer en vegetarisk pad thai som huvudrätt.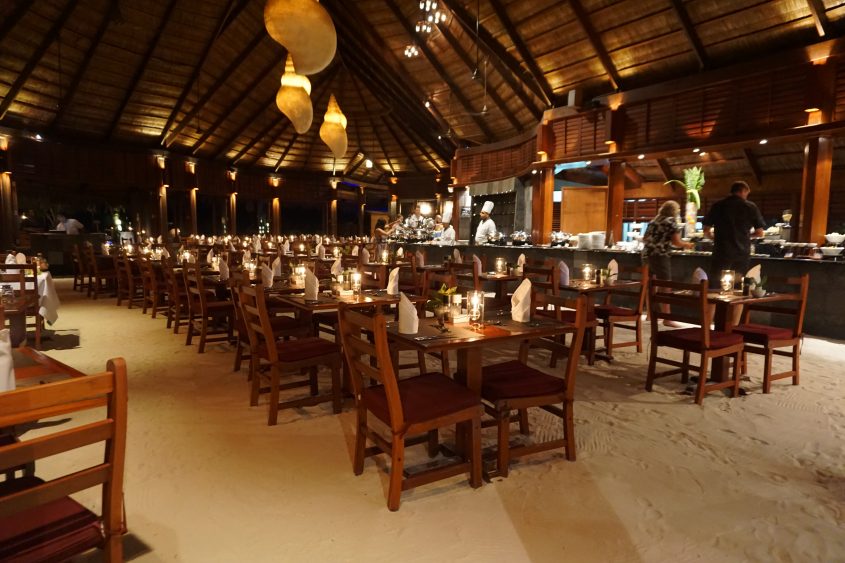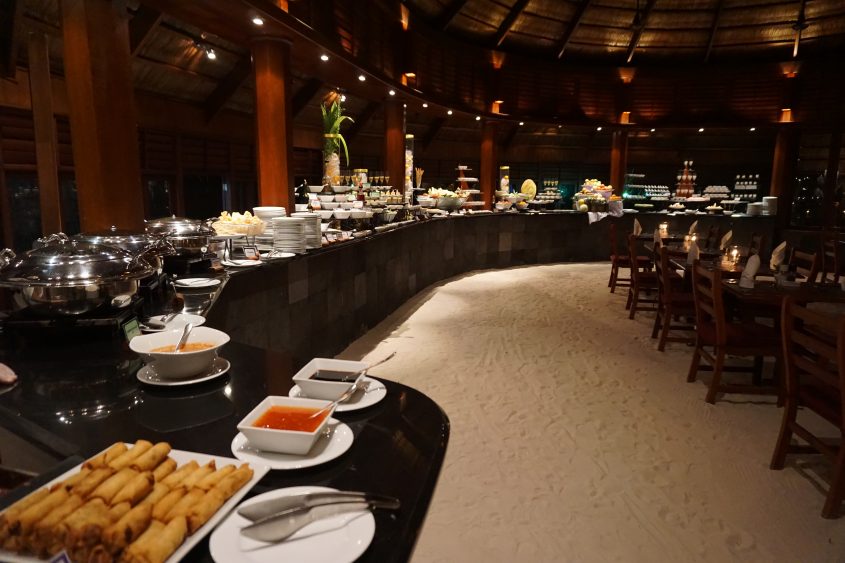 Vi kommer tidigt till restaurangen och har tur som får ett fint bord under stjärnorna på stranden.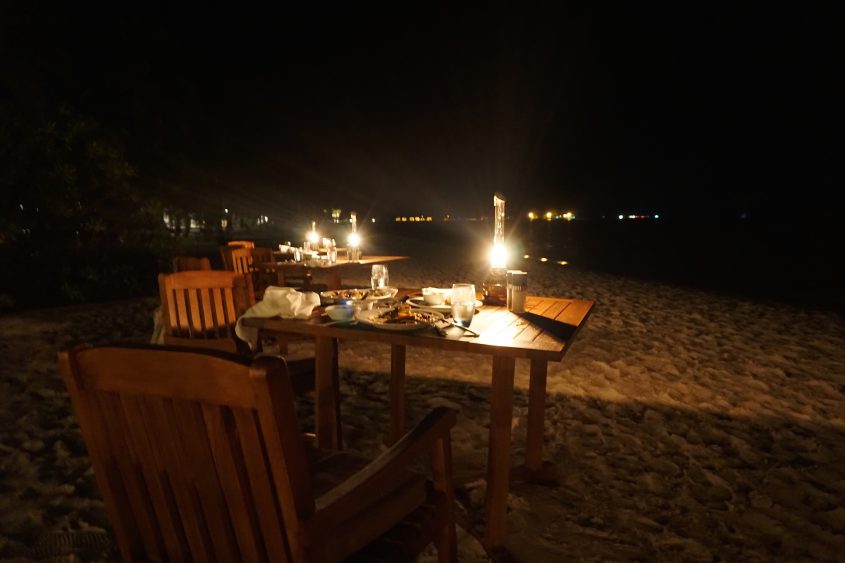 Efter maten går vi en runda till hamnen och träffar några andra par som vi lärt känna under dagarna. Vi tittar på de meterstora hajarna som cirkulerar under båtarna. Nu skulle man inte vilja bada! 😉 Sen spelar vi en omgång biljard och pratar långt in på småtimmarna. Dags att sova!
//A day in the Maldives
It is early morning and it takes a few seconds before I realize where I am … I'm in the Maldives! I've been longing for this for so long and now I am actually here. I have to pinch myself in the arm to really understand that I am not dreaming.
I go out from the balcony and look out over the white sand beach. Then I sit for a while in the shade under one of the palm trees and look out over the turquoise water. I love how the waves have swept away all the steps and flattened the sand so that it is completely smooth. I hope I don´t get a coconut on me! 😉 I peek up at the palm above. It looks good. Puh!
It's in the morning it is the best snorkeling so it is now or never. The water looks clear and still. But the breakfast buffet is calling..It´s holiday and I just have to have Nutella and a croissant! And I can not miss all the good exotic fruit available. And right there, freshly made waffles! Full and satisfied after breakfast, we head back to our bungalow. We need to rest a bit before snorkeling and get on plenty of sunscreen. Today we hope to see a turtle when we snorkel. It is said that there are lots of 70-year-old green turtles eating seaweed some 20 meters out along one side of Kuredus island.
On the way to our bungalow, we go along the shore. In one place there is a long sandbank that you can go straight into the water when it is low tide. It feels awesome and you get the feeling of almost being able to walk on water.
Time for snorkelling! We jump in the harbor where the boats come in. Who knows if there will be a shark? 🙂 Suddenly an airplane approach us! The water airplane glides slowly toward the pier with a deafening sound. The pilot has full control around him and I wave to the passengers in my snorkel mask. They look wide-eyed at me in the water and probably wonder if you really can snorkel here. It is ok, but you have to have an eye around so it does not interfere with air traffic. Now it is quiet again and everyone has gone off the plane. I can slowly swim out to the reef. There are markers exposed in some places that helps one to find it and it works also as places where you can rest. The currents are strong so you have to slowly float by and not use too much energy. It is important to always be two if something happens.
Under the surface it's like a whole different world. Large schools of blue and black fish sweeping slowly back and glitter to the sunlight that penetrates through the surface. The corals are not so colorful anymore because of the death of corals which unfortunately hit the Maldives and many other places in the world due to an increase in sea temperature, but it is full of life still on the fish I see swimming around the coral.
It is important to keep track of, among other things trigger fish territories at this time of the year (july), they can attack if they are disturbed. We encounter some but swims rapidly away from them. Soon we approach the coast and the bottom becomes more and more covered with seaweed. Then suddenly it happens. A large turtle swims gracefully past us. We swim a bit beside it. After a while it comes up to the surface to breathe and then you see really how big head it has. It is incredibly beautiful! Once on the beach again, we chill out after the long swim and decide to lie down for a while by the pool with a refreshing drink and a good book. Dark clouds pile up further away so it's probably rain again. I hope it is only temporary so we can go boating and playing golf tonight.
The rain quickly pull over and the weather gets better. It's time for a golf and boat tour! Not easy to get in a good outfit for the combo. 😉 A dress can do. After some training on the golf course, we head to the harbor where boat excursion "Sunset Cruise" will take place. If you are lucky you may see lots of dolphins on the boat and cool colors in the twilight. We were not so lucky with the dolphins but the sunset was nice.
Now it's finally time for supper! There is so much to choose from. Where do you start? I choose a vegetarian pad thai as a main course. We come early to the restaurant and are lucky to get a nice table under the stars on the beach.
After dinner, we go one round to the harbor and meet some other couples who we got to know during the day. We look at the meter sharks circulating in the boats. Now one would not like to swim! 😉 Then we play a game of billiards and talking into the late hours. Time to sleep!
SparaSpara